(Last Updated On: April 23, 2023)
What are some of the advanced project management skills? Professional project managers who are pursuing qualifications frequently realize that there is still a lot to learn about the subject. This article will share some advanced project management skills you might find useful. Keep reading.

Some managers believe that actual experience will increase their knowledge; nevertheless, structured approach knowledge provides something that simply hands-on experience cannot. How can program and project managers pick the proper path to develop their abilities, given the multiple learning possibilities available?
Project managers, in general, do not have official power, but they are held accountable for the project's overall performance. They are in charge of coordinating the interactions of various stakeholder groups, each of which has its own set of expectations and criteria for project success. Putting one's ego aside and maintaining a required emotional distance from one's job is frequently beneficial to the project manager. In summary, the project manager role necessitates a well-defined skill set and personality profile.
Different project management jobs will necessitate different skills. Because the project management environment is always changing, responsibilities and, as a result, needed knowledge and skill levels, alter as well. Being adaptable and flexible in every scenario is thus one of the fundamental qualities. Although certification does not in and of itself qualify a project manager, it does indicate the candidate's understanding of ideas and techniques. It also demonstrates the candidate's commitment to the field. The type of project management certification isn't the most important consideration.
One Step At A Time, Improvement and Skill Development
A project may be well-conceived and well-funded, the resources may be specialists, and the consultants may be highly experienced, but if the efforts of all participants are not skillfully coordinated and managed, the project may go over budget, miss its deadline, or fall short in functional and technical quality. The more important this general management job becomes as the project grows in size and complexity.
Individually, we must practice the notion of constant progress. We have a strong culture of self-help and personal development, but not everyone has embraced it, and virtually everyone could do better. In the same way that many people exercise personal self-improvement with the help of self-improvement books, motivating materials, attending motivational seminars, and so on, project management skills are basically the same.
By being aware of new concepts and adopting them into our own best practices, advanced project management abilities simply take all we know, and then some, to the next level for advanced project management wits.
A building project without a project manager would be impossible in the construction business. However, some firms still regard a project manager as an expense rather than an essential component of success. Many project managers are laid off during economic downturns as projects are canceled. Another important factor for project manager layoffs is a failure to recognize the project manager's additional value. There is no universally accepted definition of "project manager" or "project manager's" tasks: responsibilities range from administrator to multimillion-dollar budget manager. Furthermore, many firms have hazily defined project manager selection criteria, focusing on fit inside the company rather than the ability for the post.
Improvement is ongoing
Let's take a look at an example of how we might enhance our meeting management skills. We all know that practicing is the greatest method to achieve this, but it has to be excellent practice. True, practice makes perfect, but it's "perfect practice" that brings in the bacon.
If we regularly attend meetings, the greatest method to enhance our abilities and become a more "advanced project manager" is to strive to increase our consciousness, implement, accept, and integrate one or two new ideas for continuous improvement on a daily basis.
Setting a meeting time restriction, for example, is an excellent tactic to use in meetings. If you haven't been doing so, or if you're not happy with how well you've been doing it, consider adopting this one method, mastering it, and incorporating it into your standard best practices.
Then you might want to think about how to improve something like facilitation skills so that everyone can offer their best to fix difficulties in meetings. The idea is to identify a problem area, gather knowledge about it, develop one or two realistic goals, and put them into practice.
Advanced project management training may be quite beneficial in this process of personal and professional growth. To begin with, this will aid us in recognizing and dealing with various forms of problems.
It can help us become more aware of what happens in different circumstances and how to deal with it. It will be beneficial to not only familiarize but also practice the many parts of our soft skills in various project management situations.
Competent Project Manager Criteria
We defined three project management competence categories based on our research: knowledge, demonstrated experience, and personality. Each competency area is based on a set of "pillars." Three pillars support the knowledge area. In every management role, general management abilities such as leadership, negotiation, communication, team building, and other human resource management skills are required. The second pillar includes knowledge of commonly recognized project management areas, as well as the tools that are utilized in those areas, such as project scope management, project time management, and project cost management. The last pillar incorporates industry-specific management expertise, such as product development techniques and lifecycle management.
The track record, hours of project management exposure, size and complexity of projects managed, and independent references are all part of the demonstrated experience competency area. Years of experience do not automatically imply a high level of competence.
There are two pillars in the personality section, which is likely the most significant. Personality traits such as a can-do attitude, confidence, enthusiasm, open-mindedness, flexibility, and personal integrity make up the first pillar. People management abilities such as communication, motivation, influence, and political sensitivity are included in the second pillar. For project managers, the political sensitivity trait is critical. Politics is inextricably linked to projects because they are multifaceted. The trick is to be aware of politics, to collaborate with them, but not to become involved in them.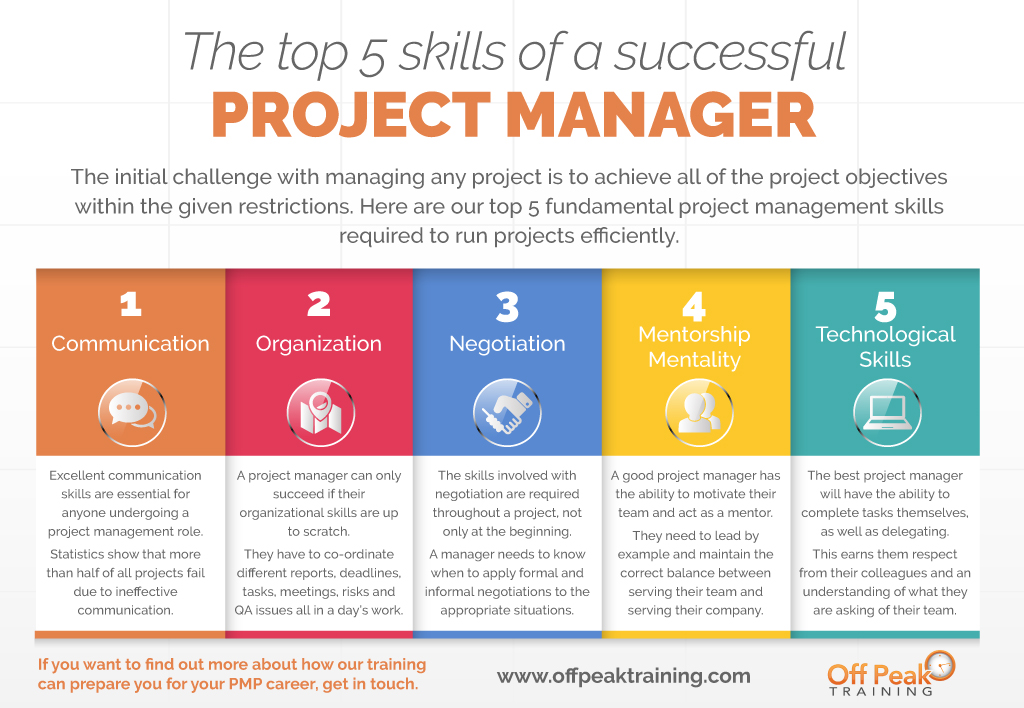 A good project manager maintains a constant balance of five "currencies": time, money, expertise, security, and prestige. All stakeholders must feel that they received a favorable exchange at the end of the project for it to be considered successful. The exchange prices for time, money, and knowledge are easily understood by most individuals. Security and status, on the other hand, are subjective and difficult to define. The functional manager who opposes a project and appears to dismiss the evident time and money advantages is a great example.
This person may be concerned about a loss of security or prestige that outweighs the worth of time and money. A skilled project manager is aware of this sense of loss, and can frequently offer a stakeholder a gain in one (or both) of these areas in order to garner their support for the project. The third aspect of people management, and one that is sometimes more difficult to handle, is when employees feel threatened by a skilled and effective project manager's skill set.
Advanced project management skills
Beyond meetings, project managers may identify any of the following areas, as well as others, for self-improvement in their quest for more advanced project management skills:
1. Gain a better grasp of the project and organizational finance.
2. Improve your communication skills with people from other cultures.
3. Gain a better knowledge of the opinions of the many generations of employees that may make up your team.
4. Identify project-specific prospects for outsourcing, as well as the risks and drawbacks of the outsourcing method.
5. Gain a better grasp of the challenges of telecommuting, as well as the tactics and traps to avoid in an ever-changing environment.
6. After several years of working for a single organization, develop more sophisticated consultative abilities in preparation for working as an external consultant.
7. Improve your technical staff management skills, which is a unique workplace challenge.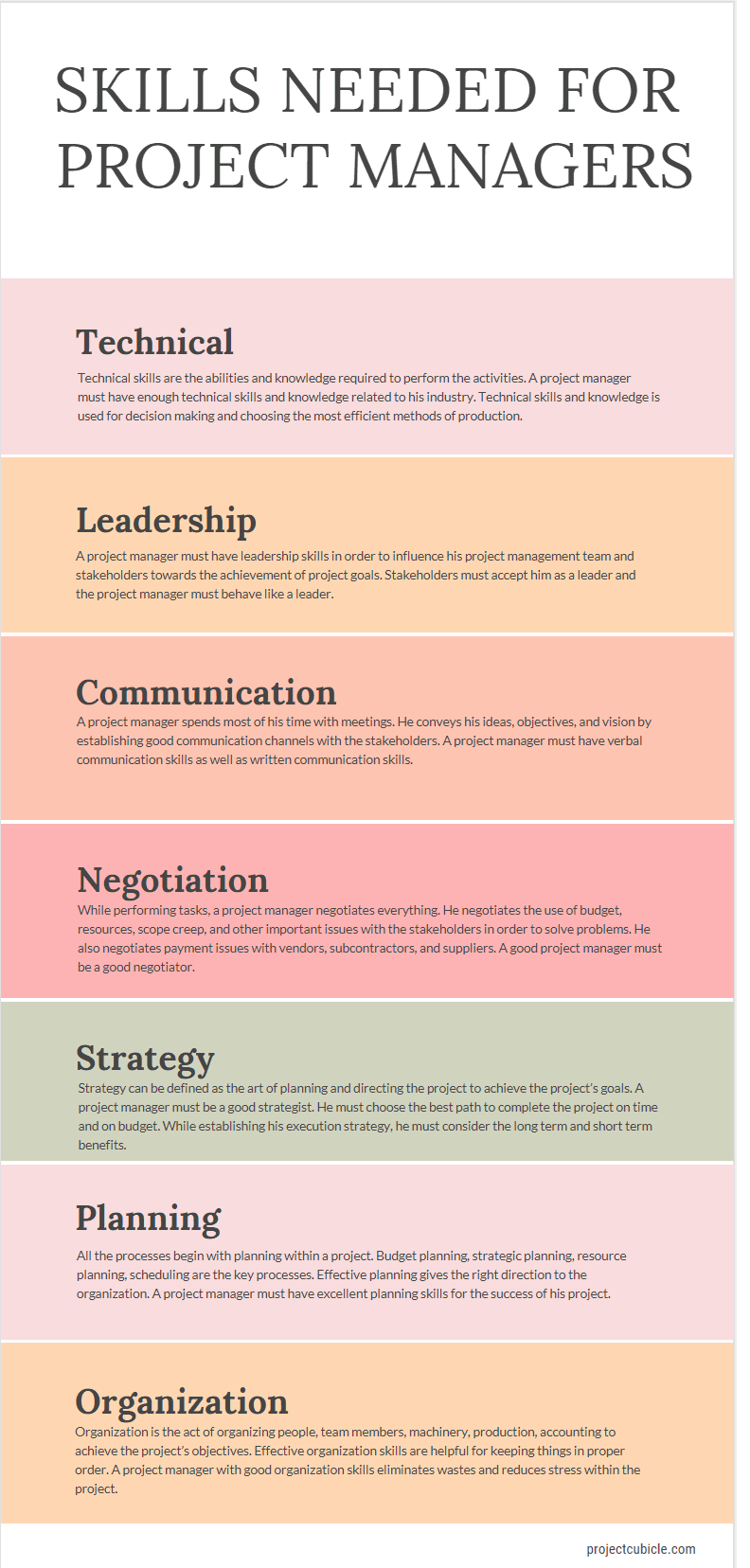 8. Experiment with relevant techniques, Bodies of Knowledge (BOKs), and frameworks, such as PRINCE2 or Six Sigma, to broaden your understanding of project management.
9. Attempt to have a deeper understanding of the topic of knowledge management in businesses as it develops.
10. Gain a formal grasp of the strategic planning process, which is used to drive project and program selection and gives input to portfolio management.
Project managers must respond on several levels. When a project manager, for example, convincingly demonstrates the relationship between the corporation's business goals and the project, they might earn influence and respect from stakeholders and management. When they can identify with the team's goals and bring these goals into line with the corporation's goals, on the other hand, they earn influence and respect from the team.
Take away
This list of ten options for improving project and program management abilities is actually rather brief. The sky is the limit when it comes to improving project management abilities, and the possibilities are nearly unlimited on way to gaining advanced project management wits. There are an almost endless amount of various sorts of obstacles that a project or program manager encounters, and there are several ways to improve, including reading books, listening to selected speakers, attending a classroom or online courses, and even hiring a coach.
More Interesting Articles