(Last Updated On: April 23, 2023)
What are some of the best foods for arthritis and joint pain? A great array of symptoms are related to arthritis in those who suffer from it. Pain is a common occurrence here, but it may be reduced by particular meals, which can help to improve the disease's course. Let's find which foods are good for arthritis! This article will disclose some of the science-based best foods for arthritis and joint pain. Keep reading.
What is arthritis, and what foods can assist it?
Arthritis is a broad word that refers to a range of inflammatory joint illnesses. Infectious arthritis (induced by germs, for example) is distinguished from non-infectious arthritis.
Rheumatoid arthritis is the most frequent kind of arthritis. It affects one to two percent of all individuals, depending on their age. It's a kind of arthritis that isn't infectious: The immune system is disrupted in this type, and the body's own tissue and joints are attacked. The explanation for this hasn't been revealed yet.
Arthritis can strike unexpectedly, increasing and decreasing in severity when flares occur. The first signs of arthritis are frequently vague, such as weariness, exhaustion, and a loss of appetite. Joint symptoms such as pain, stiffness, edema, redness (in the afflicted regions), and inflammation develop as the condition develops. Arthritis can sometimes extend to and affect the organs.
Unfortunately, arthritis is not curable, but people who are affected can reduce their symptoms and influence the course of the disease by changing their diet. It all comes down to consuming anti-inflammatory foods and good fats.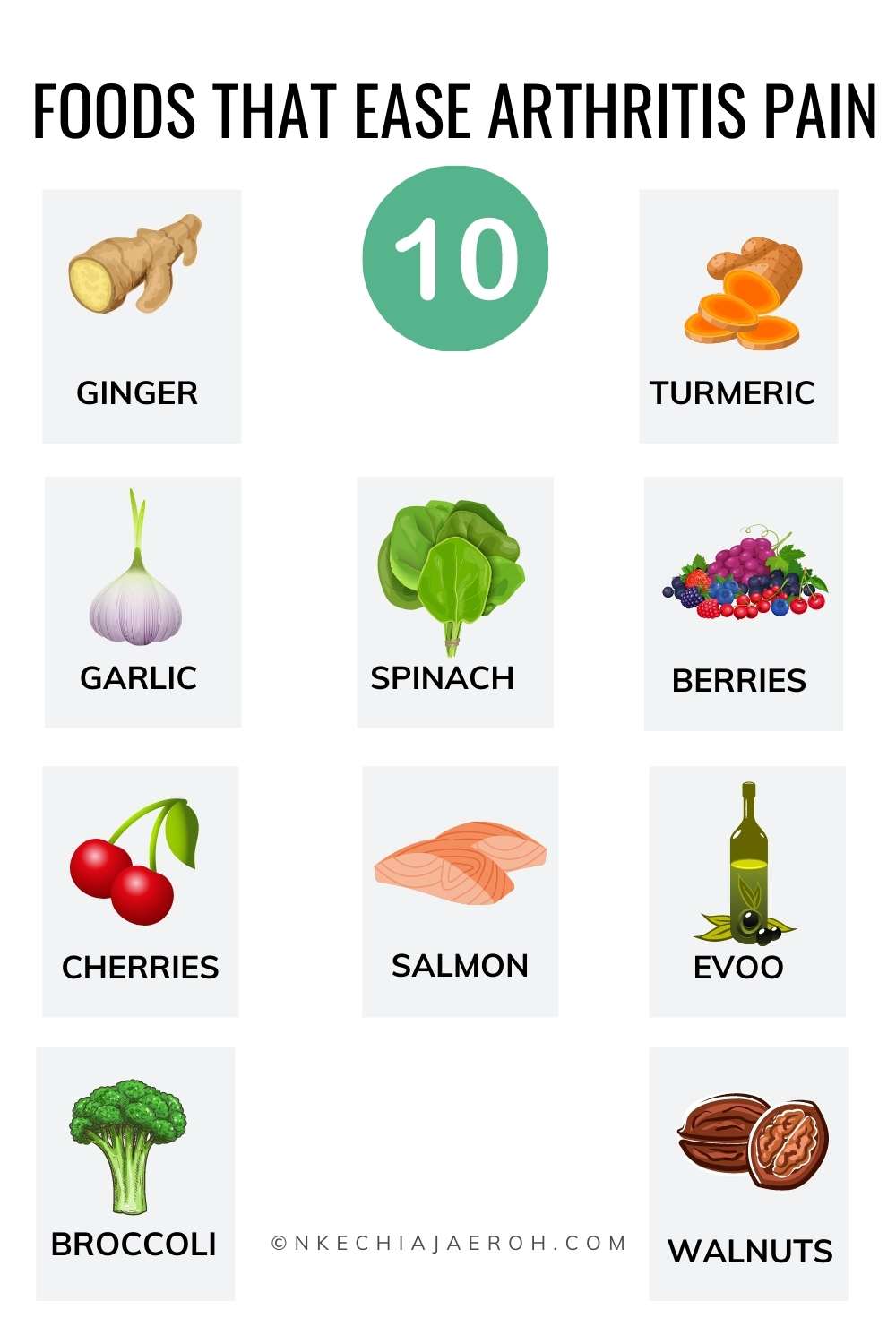 10 best foods for arthritis and joint pain



Let's find below the 10 best foods for arthritis and joint pain
1. Omega-3 fatty acid-rich fish
Fatty fish, such as salmon, mackerel, sardines, or trout, is one of the greatest diets for arthritis. The omega-3 fatty acids present have antioxidant and anti-inflammatory properties. Our expert describes omega-3 fatty acids in detail: "Polyunsaturated fatty acids are omega-3 fatty acids.
They are not produced by the body and must be consumed through diet. Rapeseed oil, walnut oil, and fish oil all contain them. While plant diets are more likely to provide alpha-Linolenic acid, fish and some microalgae have the longer-chain omega 3 fatty acids EPA and DHA." Linda Marx, a nutrition specialist, explains.
Omega-3 fatty acids have been demonstrated in studies to lower the severity of discomfort in acute arthritis, as well as stiffness in the afflicted joints in the morning. Furthermore, the test subjects required fewer painkillers than the comparison groups.
Furthermore, another study found that omega-3 fatty acids found in fish had an anti-inflammatory impact on rheumatoid arthritis-affected joints.
2. Turmeric
The spiciness of the tuber makes it a true superfood. Turmeric, whether fresh or powdered, has been found in studies to lower the severity of arthritic pain by up to 50%. This is believed to be achieved by taking half a teaspoon of the powder every day.
Turmeric contains curcumin, which not only suppresses inflammation but also acts as an antioxidant. Curcumin's chemical composition allows it to neutralize free radicals, rendering them harmless. To get the health advantages of turmeric, some people use dietary supplements.
The issue: Some manufacturers use black pepper extract to boost the bioavailability of their products (piperine). The Federal Institute for Risk Assessment (BfR), on the other hand, considers too much piperine to be dangerous.
If you still want to take nutritional supplements, choose Phytholistic pills, which are organic and have a 40-fold increase in bioavailability. Piperine isn't present in any way in this product.
3. Garlic
Garlic is also a pain reliever for arthritis sufferers. Certain components of garlic, notably omega-3 fatty acids, have anti-inflammatory and pain-relieving properties. Garlic intake has been demonstrated in studies to enhance the immune system and minimize the risk of acquiring arthritis in the first place.
Garlic, on the other hand, is a true miraculous bulb in other ways: garlic cloves contain phytoncides, which are natural antibiotics that operate against harmful microbes without causing adverse effects.
Garlic's active element, allicin, is even powerful against germs and fungus that are resistant to antibiotics. Garlic also protects the heart and blood vessels, decreases blood pressure, controls fat and cholesterol levels, and minimizes the chance of vascular obstructions like thrombosis.
4. Ginger
Ginger not only cures colds, sore throats, nausea, and digestive issues, but it also relieves pain from severe arthritis. After ingesting ginger extract for six weeks, 63 percent of 261 individuals with arthritis in the knee reported less discomfort.
The little ginger bulbs contain a variety of critical nutrients and trace elements, including B. potassium, calcium, magnesium, folic acid, vitamin C, and phosphate, in addition to the healthful and pain-relieving gingerol.
Ginger powder, fresh ginger tea, and ginger in meals have all been demonstrated to help lower the formation of inflammatory compounds.
5. Spinach
Spinach is one of the healthiest vegetables since it contains 91 percent water and so has a low-calorie content. Because 100 grams of spinach has just 3.6 grams of carbs, the green leafy vegetables are ideal for a low-carb diet.
Spinach is also high in vitamins and minerals. Vitamin C, vitamin K, iron, folic acid, calcium, and vitamin A are just a few of them. It's no surprise, therefore, that spinach is a beneficial meal for arthritis.
Because of its high antioxidant content, spinach has been demonstrated to have a favorable effect on the symptoms of arthritis in mice. However, the research is still in its early stages, and it is unclear if it can be utilized to make conclusions about humans. Nonetheless, spinach is and will continue to be a really beneficial meal that you should consume more frequently.
6. Walnuts
Walnuts are nutritious powerhouses, containing a wide range of vitamins and minerals. Walnut kernels include around 8.5 grams of omega-3 fatty acids per 100 grams. Zinc, potassium, magnesium, phosphorus, iron, and calcium are also abundant in nut kernels.
The tasty almonds are also anti-inflammatory, making them an excellent diet for arthritis sufferers.
Because of their high-fat content, walnuts should be stored in a cold, dark area (such as the fridge).
7. Berries
Berries, particularly strawberries, blueberries, and raspberries, are high in antioxidants and are an excellent diet for those with arthritis. They are abundant in antioxidants, which protect our cells and may also aid in the prevention of joint issues like arthritis and osteoarthritis.
Berries are also high in vitamin C, calcium, potassium, and iron, all of which are beneficial to our immune systems.
8. Broccoli
Broccoli, like many other cabbage varieties, is recognized for its health advantages.
Broccoli has nearly twice as much vitamin C than cauliflower and hence protects against colds. In addition, an average serving contains roughly 115 milligrams of calcium. As a result, broccoli is a good source of calcium, especially for vegans and lactose-intolerant persons.
Furthermore, all forms of cabbage, including broccoli, are anti-inflammatory, making them excellent arthritis meals.
9. Grapes
Grapes are not only a tasty snack, but they also have anti-inflammatory properties and are high in antioxidants. Grapes were shown to lower the levels of inflammation in the blood in research involving 25 male test participants.
Grapes also include the vitamins C and E, as well as the compounds resveratrol and OPC (oligomeric procyanidins). These improve blood circulation and hence help to avoid heart and circulatory problems.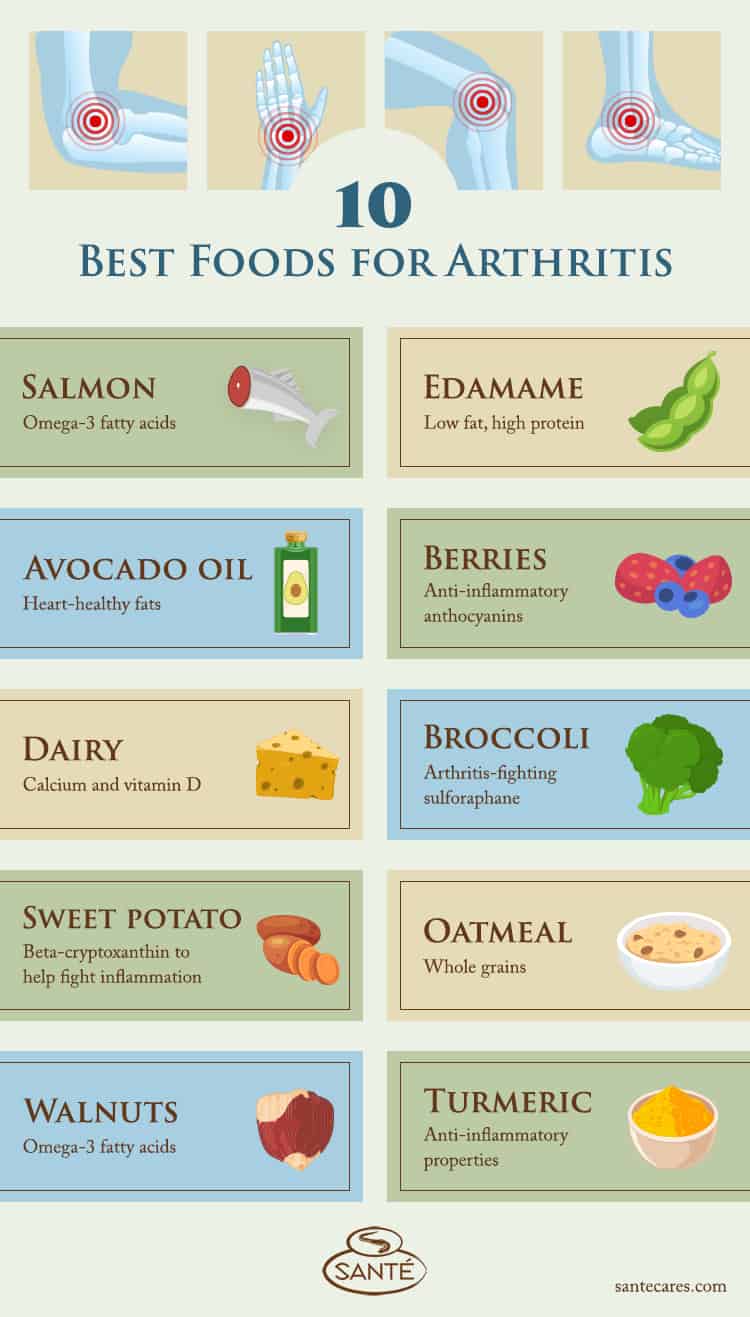 10. Olive oil
Olive oil is also a beneficial meal for arthritis sufferers. Olive oil, which is high in antioxidants and anti-inflammatory components, can help reduce arthritic symptoms. Olive oil has been shown in studies to lessen the risk of getting arthritis as well as inflammation in the body.
Olive oil is also well-known for its beneficial effects on the cardiovascular system. It aids in the reduction of "bad" LDL cholesterol and the enhancement of "good" HDL cholesterol.
Final thought
Arthritis is a condition in which the joints become inflamed. Those who are impacted have excruciating pain, tight joints, and edema. Rheumatoid arthritis is the most frequent kind of arthritis. It affects one to two percent of all individuals, depending on their age.
Arthritis can strike unexpectedly, with pain intensity fluctuating between episodes. Unfortunately, there is no cure for arthritis, but many sufferers have found that specific diets and foods might help them manage their symptoms.
More Interesting Articles