(Last Updated On: April 23, 2023)
What are some excellent characteristics of a good manager? What does it take to lead a diverse group of talented people? You must build the leadership skills that today's highly effective managers possess as a manager. Without further ado, here are the top characteristics that distinguish a great manager from a mediocre one.
Following is a list of managerial attributes that are needed if you want to establish and leverage high-performing teams, based on a thorough analysis of management literature. You risk losing your most significant corporate asset if you don't have these skills: the expertise and enthusiasm of your creative individuals.
Characteristics of a good manager
Look for these attributes in your managers and figure out how to train them to accomplish these things consistently. Your effort and training investment will pay off handsomely. When seeking for competent managers to operate your creative processes, look for persons that have the following skill sets:
1. Activate Creativity
The difference between poor and outstanding managers is creativity. It allows a project to be completed flawlessly and attracts clients to your goods. Workplace creativity adds to the attraction of the experience.
As a manager, figuring out the results of your project in a unique way and ensuring that each task is handled in a unique way will draw the attention of your target clients. It will also encourage your staff to be more creative on their own.
2. The capacity to come up with new ideas
Can they come up with a variety of viable answers through brainstorming and brainwriting as individuals and in groups?
3. Transparency and honesty
An excellent manager is a living example of honesty. Your team members will trust you if you are open about how you run your firm. Make sure you're always open and honest about your efforts, and that you accept responsibility for your faults.
Employee loyalty will grow as a result, and your supervisory leaders will be able to lead with confidence. Another crucial element to remember is to be open and honest with your clients. As you can assume, being upfront with your staff will have the same impact.
4. The capacity to think in a different manner
Are they able to look at the problem or situation from a number of angles? Do they invite people from many walks of life to join the team and contribute their unique perspectives?
5. Strive for the Big Picture
You should be aware of the organization's objectives. Bring your team ahead by being a great visionary.
While it's crucial to work on the minutiae of a project, remember to keep your eye on the broad picture so you can achieve your objective and bring all of the pieces together.
Carry your staff along with your project's strategic vision. This will enable them to contribute meaningfully to the project and your organization's vision. It will also give them a sense of importance since they will see how their job contributes to the company's ultimate aim.
6. Bring Expertise
Great managers have a track record of leading others. Experience may be a great teacher. It teaches you how to handle a project in the future or how to deal with your team members more effectively. Managers that are effective don't wait for experience to come to them by accident. They are looking for opportunities to obtain experience in order to improve their leadership skills.
If you lack leadership experience, take the initiative when the occasion arises.
Volunteer for managerial positions both inside and outside of your field. You may operate a company, plan events, or raise donations for a charity. While volunteering, you may develop the qualities necessary to become a great leader.
7. The capacity to put one's judgment aside
Can they hold off on critical analysis until we've exhausted our brainstorming session? The premature critique will limit initiative and inventiveness, resulting in an ineffective group procedure. There's no faster way to alienate your team than to dismiss the ideas you encouraged them to present.
8. Effective Communication
Managers who are good communicators are more productive. They utilize words, text, and visuals to communicate with people, help them comprehend, and take action. So, what are your options for achieving the same result?
Begin with your workers and members of your team. They should be aware of their work responsibilities, expectations, and what they can provide to a project. Listen to their suggestions, both favorable and negative, and incorporate them into your efforts.
Work with them to get the best outcomes possible. Customize and modify your speech to the circumstances. Employee communications should be handled differently from those with the board of directors or clients.
9. The capacity to employ useful heuristics
Not extensive study, but useful rules of thumb are required. The most difficult issues cannot be addressed by computers; instead, they require an understanding of human dynamics as well as excellent rules of thumb. To get the most out of our knowledge base, learn how to tap into the rich human experience that exists inside the group. You'll be astonished at how much information your folks have.
Ensure that the board of directors understands your project's/unique organization's goals and how they will lead to growth and greater market share.
Ascertain that your consumers or customers are aware of the personal advantages of your product and why you do what you do.
10. Set a good example
It's not only a matter of giving commands and expecting them to be followed. You should follow in the footsteps of a great manager.
Work with your colleagues and demonstrate how to do jobs.
When you set a project deadline, you don't just pass it over to your subordinates; you work alongside them. Answer their inquiries, walk them through the intricacies, and steer your team through the project from start to finish.
11. The ability to concentrate for long periods of time
Seeing a project through to completion, especially while brainstorming and listening to several perspectives, necessitates the capacity to focus for extended periods of time. To see it through to the conclusion, you'll need a combination of enthusiasm and determination. That's what we need from our bosses to get us past the inevitable stumbling blocks.
12. Inspire excellence in others
To be a successful manager, you must motivate and inspire your employees to perform at their best. You should concentrate on each individual, noting their advantages and disadvantages. Place your team members in situations where their skills may be fully used while their inadequacies are addressed.
As a result, you can assure that everyone is striving for greatness. Instill in your staff a drive to make a difference. Provide them with leadership development training so that they may make a difference, lead mini-projects, and run with the organization's goal.
13. Seek out information
The world is always evolving, and new methods of doing things appear on a regular basis. The only way to stay on top of things is to keep your knowledge up to date. Managers set themselves apart from their colleagues by consistently expanding their knowledge base and seeking out new skills to employ in their daily work.
You should make sure you're always learning new things on how to move your firm ahead. The traditional approach of earning a business degree or a master's degree in company development, leadership, project management, or human resources has typically provided consistent outcomes. Depending on your pick, you're certain to have some level of success with that investment.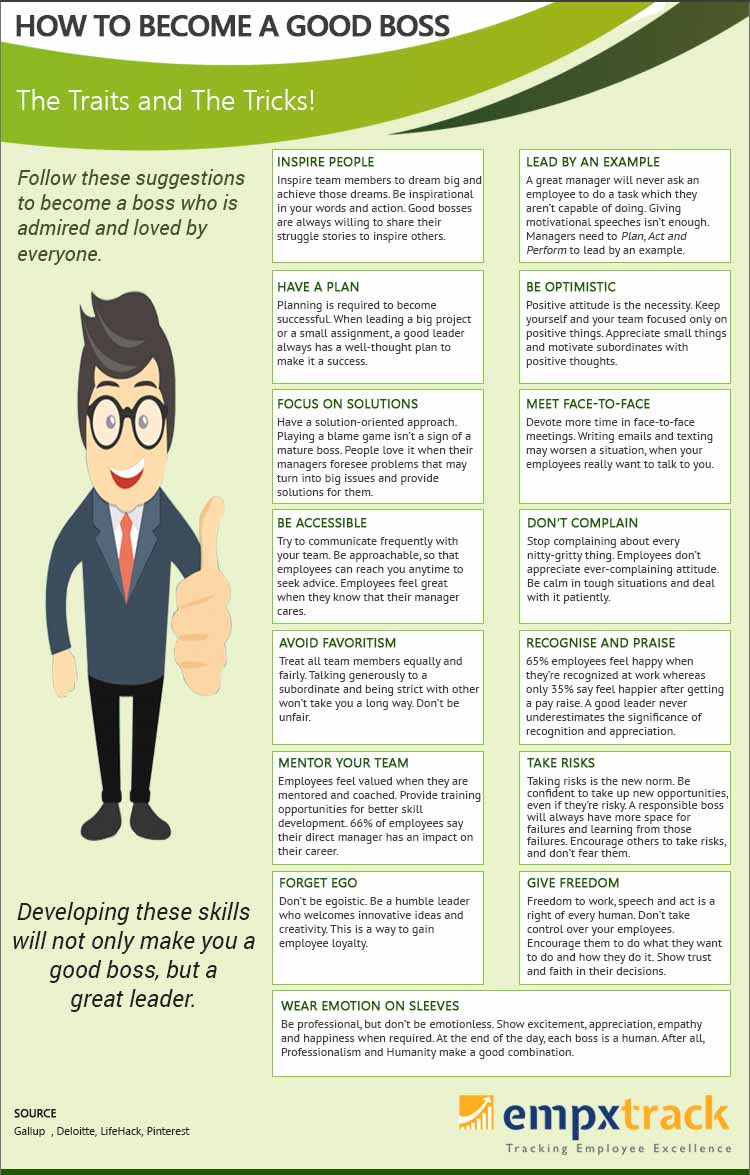 Final thought
Avoid becoming a solitary learner. Encourage your staff to pick up new skills and recognize those that keep their knowledge up to date. As a result, your items and company will remain relevant as the market evolves. Furthermore, more individuals with more expertise mean more innovative products or service improvements.
You'll flourish in any job you pick and provide value to whichever team or organization you're on if you have these leadership traits.
When choosing your team managers and group leaders, keep these tips in mind. You will be miles ahead of the competition if you use this list to help you establish your own managerial traits. People will be wanting to be a part of your group!
More Interesting Articles