(Last Updated On: April 22, 2023)
Deming 14 principles of quality management is a great way to understand excellence in project management. Many people misunderstand quality because they only think of it in terms of the final product.  This article will discuss Deming 14 principles of quality management.
However, a quality product can only be achieved through quality processes that focus on efficiency, innovation, and continuous improvement, which necessitate a quality management culture not only in our projects but also within our organizations with Deming 14 principles of quality management. Edward Deming proposed 14 principles in chapter two of his 1986 book, Out of the Crisis, that he felt might improve the industry's competitiveness by enhancing quality.
Anyone may start improving their organization. While our professional domain as project managers is defined by the project life cycle, our influence is often far greater, and quality management is one of the areas where skilled project managers are best suited to be instrumental change agents – first in the culture of their projects, and then in the culture of their departments and organizations.
Deming 14 Principles of Quality Project Management
If we apply Deming's ideas as project managers, we may build project settings where quality thrives, benefiting not just our clients and projects but also potentially serving as a tipping point for bringing quality management transformation to our businesses.
1. Establish a consistent goal of progress.
Deming is advising management to stop reacting and start planning ahead.
For project managers, what has previously been seen as long-term planning is no longer feasible. Business evolves too quickly, and precise, up-front plans take too long to develop and are always out of date by the time they're written down.
Projects, on the other hand, require a plan that specifies actions, goals, and priorities, thus we should strive for extensive planning based on iterative, rolling-wave, or Agile methodologies in our projects.
Thorough planning combines thorough short-term planning with a longer-term perspective that emphasizes frequent evaluations, re-planning, and risk management, particularly for exploitable possibilities. As a consequence, the project plan may swiftly adjust to dramatic business and deliverable changes without causing the project to fall apart.
2. Adopt a new way of thinking.
Deming is advising management to quit being hypocrites, face the problem, and take the initiative.
People will always see through somebody who claims one thing but does something quite different. This is especially true for project managers. Change that is lasting and invigorating begins with us, and only then can it extend outward and inspire others to action.
As managers, our underlying beliefs must be visible in all of our interactions with our teams and coworkers, not only in our words. It takes time, but when our message and attitude expand to a growing number of individuals, a domino effect occurs, and the members themselves become quality management believers and evangelists.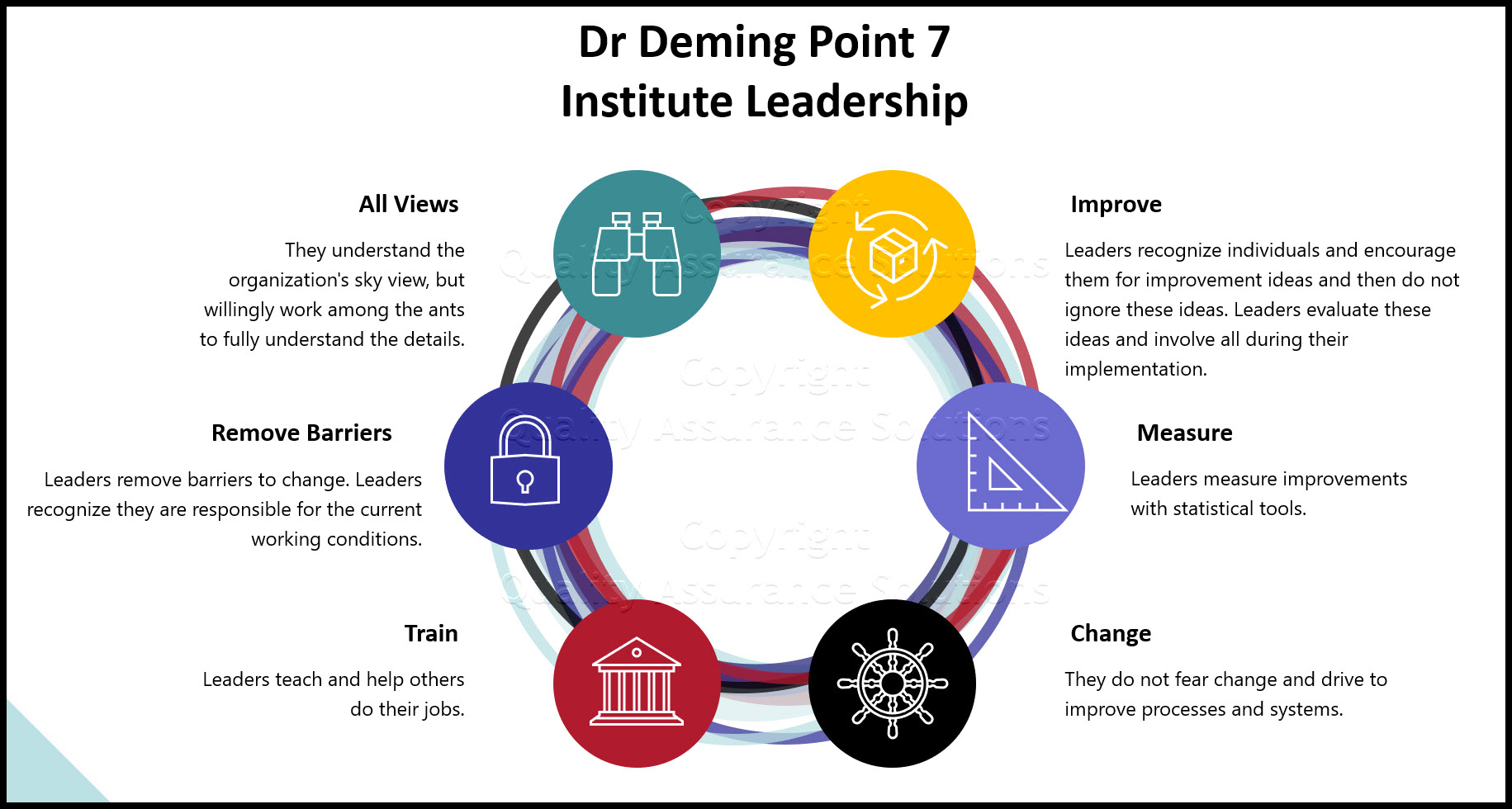 3. Stop relying on inspections.
Deming is reminding management that preventing quality problems in the first place will reduce the need for inspection.
For project managers: We all know that prevention is better than cure, thus our project management and execution procedures must include strategies for continuous improvement in order to avoid quality issues.
However, inspection has implications that go beyond its merely quality meanings. Are we promoting an inspection-based management style? If our team develops a habit of running everything by us for permission before proceeding, we may be doing something that isn't beneficial for ourselves, the team, or the project.
As project managers, our job isn't to act as a filter through which everyone seeks approval. If this is the case, the project will become stagnant and rigid. Instead, let's make sure we build a project culture in which the team has the skills, information, and expertise it needs to make day-to-day, quick choices according to Deming 14 principles of quality management.
4. Put an end to the practice of awarding contracts based on price tags.
The goal of this point for Deming was to avoid variability in the production process by having too many component suppliers.
For project managers: Because most procurement demands go beyond simple goods, price should rarely be the deciding criterion. When a project is expected to include frequent modifications, we need vendors who can adapt or come up with their own new ideas to respond to those changes, which is unlikely to happen if low-cost suppliers are hired.
This idea also applies to our job as a vendor for both internal and external clients. We aren't merely requirement collectors; we need to be involved with customers and stakeholders, knowing their business goals so that we can produce the product that best fits their evolving demands.
5. Constantly and eternally improve.
Industry executives must continually endeavor to eliminate variance, which contributes to quality issues, as Deming reminds them.
For project managers: The PMBOK's underlying principle of continuous improvement isn't like a switch that can be switched on or off. It's an attitude that may be cultivated in the correct setting.
Members of the team require skills, information, and knowledge outside of their core areas of expertise, and we should promote experimentation and reward mistakes made in the pursuit of innovation, which includes removing blame and embedding the lessons-learned process throughout the project.
Amateurs, not specialists, are often the source of large-scale advances and novel techniques because amateurs are motivated by their interest in the subject and are less bound by preconceived concepts and beliefs. "I'll pick a passionate amateur over a boring expert any day," says Chris Anderson, author of The Long Tail.
6. Provide on-the-job training.
Deming says On-the-job training improves efficiency and reduces mistakes in job outputs.
For project managers: Process improvement is only one aspect of continuous improvement. It covers the complete project team's hard and soft talents, experiences, and knowledge. Professional growth, coaching, and mentoring should all be praised, recognized, and promoted.
It isn't necessary to spend a lot of money on training, and it doesn't have to be institutionalized. Group-led activities that also function as team-building exercises, such as webinars, vendor demos, and particular conversations on best practices, are some of the greatest training experiences.
7. Institute management.
Deming wants managers to be leaders, not just managers.
For project managers, the issue is usually a lack of leadership rather than a lack of management. People skills are more important than project management abilities in leadership. Few sponsors see themselves as project leaders, and if the project manager does not take on the leadership role, the project is unlikely to succeed.
A project leader is able to convert the project's vision into actions that excite, inspire, and drive the project team, and he or she is able to establish a belief that the project isn't just about delivering a product; it's about doing something amazing for the client on the basis of Deming 14 principles of quality management.
8. Get rid of fear.
Fearful or punitive management, according to Deming, is harmful because it prevents employees from asking questions or offering ideas.
Project managers should know the following: Fear suffocates two of quality's cornerstones: innovation and continuous improvement. A scared team will not produce new ideas and will hide its faults, resulting in a sloppy lesson-learning process. Deming's thesis goes beyond what most of us think of when we hear the word "fear."
Fear is also that inner voice that keeps us from speaking up or expressing our ideas: fear of failing, seeming dumb, making a mistake, missing a deadline, stomping on someone's toes, and so on. These worries, however, are just as damaging to quality as the dread of punishment.
These anxieties are fueled by a lack of confidence among team members and in the project's leadership. Team members will be more ready to share their thoughts and question established methods if we enhance trust.
9. Break down boundaries between departments inside the company.
Deming wants everyone to understand that everyone is someone's client and that everyone is someone's supplier.
Project managers should know the following: Silos and inflexible hierarchies are hazardous to both the project and the organization. Innovation and continuous progress are the results of someone noticing a link that isn't visible at first glance, and connections can't be found when one is trapped behind artificial boundaries.
We can assist folks to break down such barriers by exposing them to a variety of settings outside of their usual surroundings and comfort zones. When workers labor outside their specialty, there is a short-term loss of productivity, but the project and organization benefit in the long run.
This method contributes to the development of a wider pool of "generalists" in a variety of fields, and new experiences are a significant incentive for many individuals. This method also increases the chances of creative methods and serves as a risk management technique in the event that key employees depart the project.
10. Remove slogans, exhortations, and workforce objectives.
Slogans make it seem like the fault is with the personnel when it's actually with the process.
For project managers, the first step is to understand that we are accountable for all problems that arise inside the project, regardless of their nature. It's not the fault of the team, the client, or the company; it's our problem based on Deming 14 principles of quality management.
Communication, scope, requirements, activity definitions, project planning, and re-planning, risk management, and stakeholder participation are the fundamental causes of most project difficulties. Even if we aren't the ones executing them, they are all inside our professional area. It is our obligation to ensure that the project procedures are carried out efficiently and to the project's specifications.
11. Get rid of goal-oriented management.
Setting production goals merely motivates individuals to achieve them by whatever means necessary, resulting in low quality.
Project managers should know the following: On the surface, this idea may appear to most of us to be heresy: how can a project be managed if no objectives are set? It can't, of course, but that wasn't the point of Deming's argument.
He's contrasting short-sightedness with meticulous planning. Setting goals in reaction to a problem without first identifying and addressing the fundamental causes of the problem will only result in more quality issues.
Milestones are the most common project goals, and they must be both tough and doable in order to keep the team motivated. Yet, especially for projects that are very iterative and include rolling wave planning, one of the most prevalent scheduling errors is a lack of flexibility.
As these projects continue, milestones must be examined on a regular basis, which frequently results in the initial deadlines being pushed back. Because we're too attached to dates that were merely best guesses or top-down predictions made early in project planning, too many of us interpret these readjustments as "missing our objective."
We should also be cautious to communicate milestone dates to stakeholders as estimates and explain the iterative nature of these projects; milestone dates may vary as the project is more understood and the work required becomes clearer.
12. Remove impediments to pride in one's job.
Nobody enjoys creating substandard work, according to Deming.
Employees become irritated when management creates an environment that encourages low quality. Recognizing the team and individuals for their efforts and accomplishments may assist project managers to create pride in their work.
Everyone in the project team should feel appreciated and valued for their contributions to the project's success. Sincere gratitude is one of the simplest, cheapest, and most powerful motivators we can employ. Even "failures" and blunders are accomplishments if significant lessons are learned.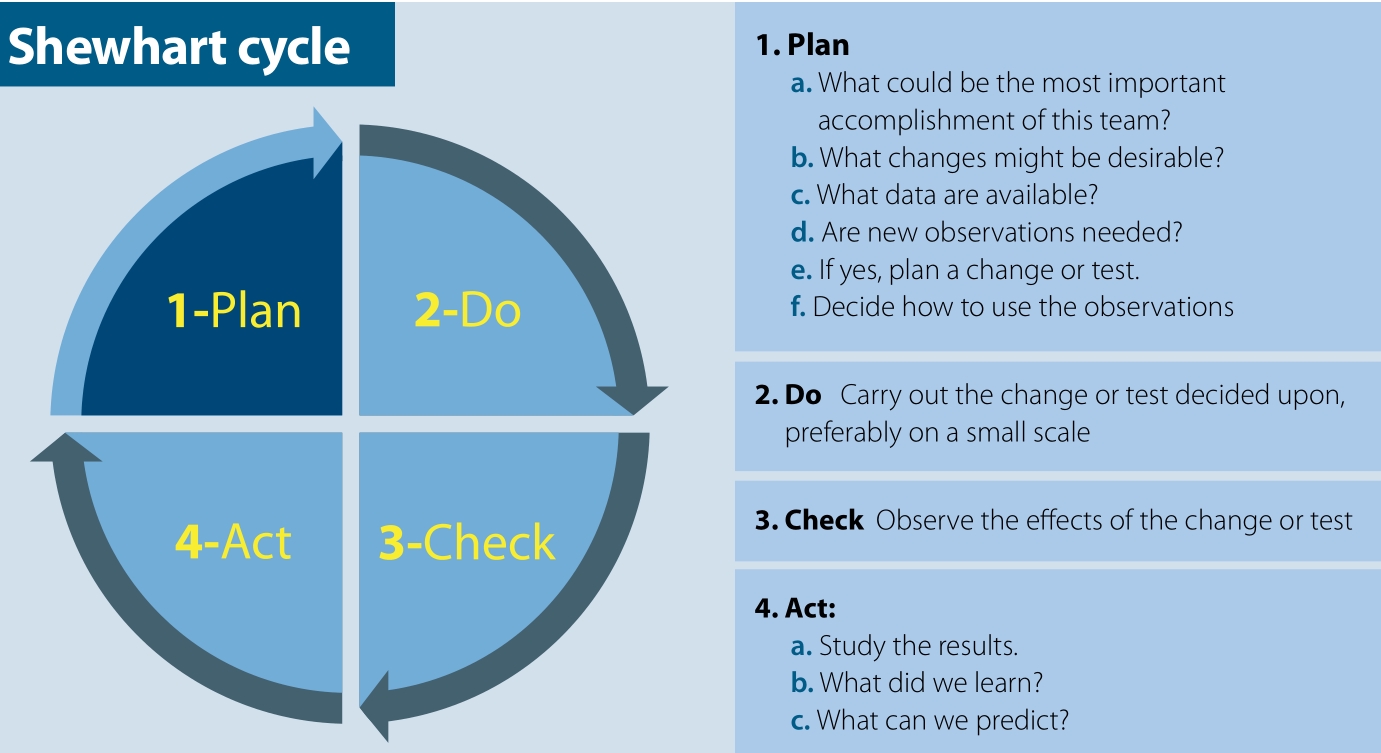 13. Self-improvement and education at the institute.
Deming believes that everyone, including managers and employees, should embrace training, education, and self-improvement.
For project managers: Not only should qualified project managers anticipate and support ongoing professional development, but we should also expect and encourage it among our team and coworkers. Our team members would enjoy it if we have a broad awareness of their profession's criteria, reward them for certification efforts, and provide them with chances to satisfy those needs.
14. Everyone is responsible for the transition.
Everyone is involved in repairing the processes, according to Deming.
For project managers: If we've followed all of the previous principles, we'll end up with a quality management culture in which everyone is participating in continuous improvement and innovation. Our team members will distribute those ideas to other project teams after having firsthand experience with quality management.
More Interesting Articles