(Last Updated On: April 22, 2023)
Interpretation, Analysis, Formula, Benefits, and Drawbacks of the Pert Chart are here. Let's explain the use of a pert chart in project management. You've probably heard of the PERT Chart, which is widely used in businesses, particularly by project managers. What exactly is it? You must be interested in learning more about the PERT Chart. This site might be really beneficial to you. Let's start with the definition of PERT.
What Is A PERT Chart And How Does It Work?
The acronym PERT refers to the Program Evaluation Review Technique. A PERT chart is a graphical depiction of a project's timeline that is used as a statistical tool in project management. The Program Evaluation Review Technique is a technique for analyzing and representing the activities of any project, in which we break down the tasks for analysis.
PERT was developed by the US Navy in 1950 when they were working on the Polaris missile. Project managers create the PERT chart to analyze the length of time required to complete the project, the resources required, and the potential hazards. PERT charts are used by project managers to predict the duration of their projects by stating three-time estimates: optimistic, most probable, and pessimistic.
What Is The Purpose Of A Pert Chart?
A PERT chart assists a project manager in analyzing and estimating the time required to complete each project job. This information may be used by the project manager to determine the minimum time required to complete the project. The data also aids the project manager in determining a budget and identifying the resources needed to complete the project.
Nodes or circles indicate project events or milestones in a PERT diagram. Vectors or lines link these nodes to distinct jobs. Dependent tasks are items that must be completed in a specific manner. When an arrow is drawn from Task 1 to Task 2 on a PERT chart, for example, Task 1 must be completed before work on Task 2 may begin.
Items at the same stage of the product but on different task lines in a project are referred to as parallel tasks. They are independent, although they are planned to occur at the same time.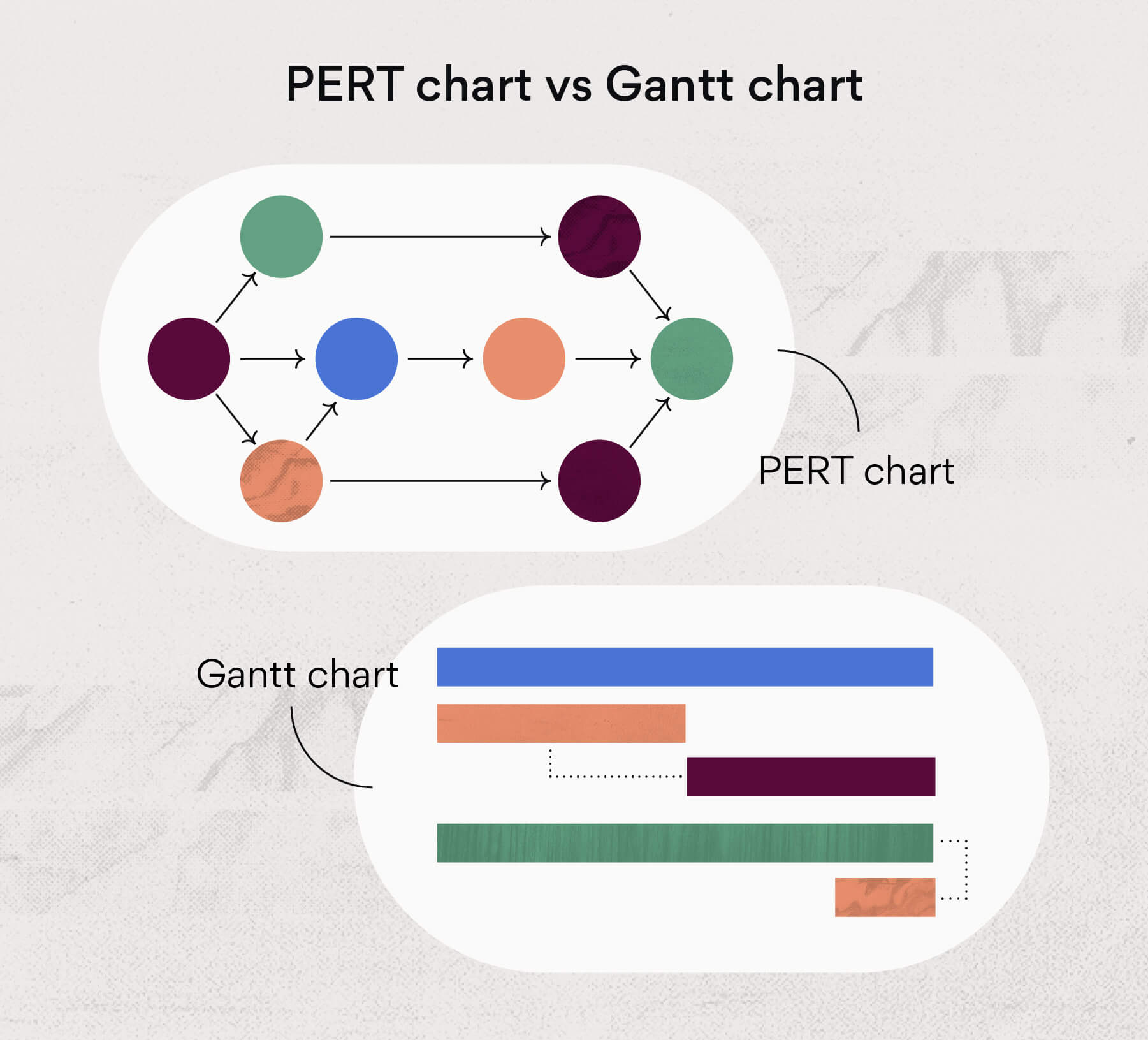 How Do You Make A PERT Diagram?
The steps for creating a PERT chart are as follows:
Create Milestones: First and foremost, make a list of all milestones and tasks associated with your project. If you have checkpoints in your game that you must clear before finishing it. In the same way, you break down your project into little tasks and milestones and aim to complete them first.

Following the creation of milestones and tasks, try to determine the best sequence for those tasks. You should recognize which jobs must be completed before the others and work on the project accordingly. Before you begin, you must first determine your task order.

Your Tasks' Time Criteria: Determine the time criterion for your work when you've completed both. This is the most technical stage in creating your PERT chart. Each activity has three-time criteria that you must determine:
a) ESD/EST (Earliest Start Date/Time)
Its name tells you all you need to know. This is the earliest time or date at which you can begin your project.
b) The earliest possible completion date/time (EFD/EFT)
You can see that this is the earliest potential time or date for you to complete your job.
c) Time Required to Finish
This is the exact amount of time you want to devote to each activity in your project.
Sketch Your PERT Chart: You may now draw your PERT chart or use PERT software to build it. You are free to design your PERT chart in any way you see fit. Just make sure you incorporate all of the information you got appropriately.

Draw Your Critical Path: After you've completed your PERT chart, utilize it to create your Critical Path. The determination of the most significant phases required for your project is known as the critical path.

As appropriate, update your PERT chart: This PERT chart is used for project planning purposes. When conditions change, you may make adjustments.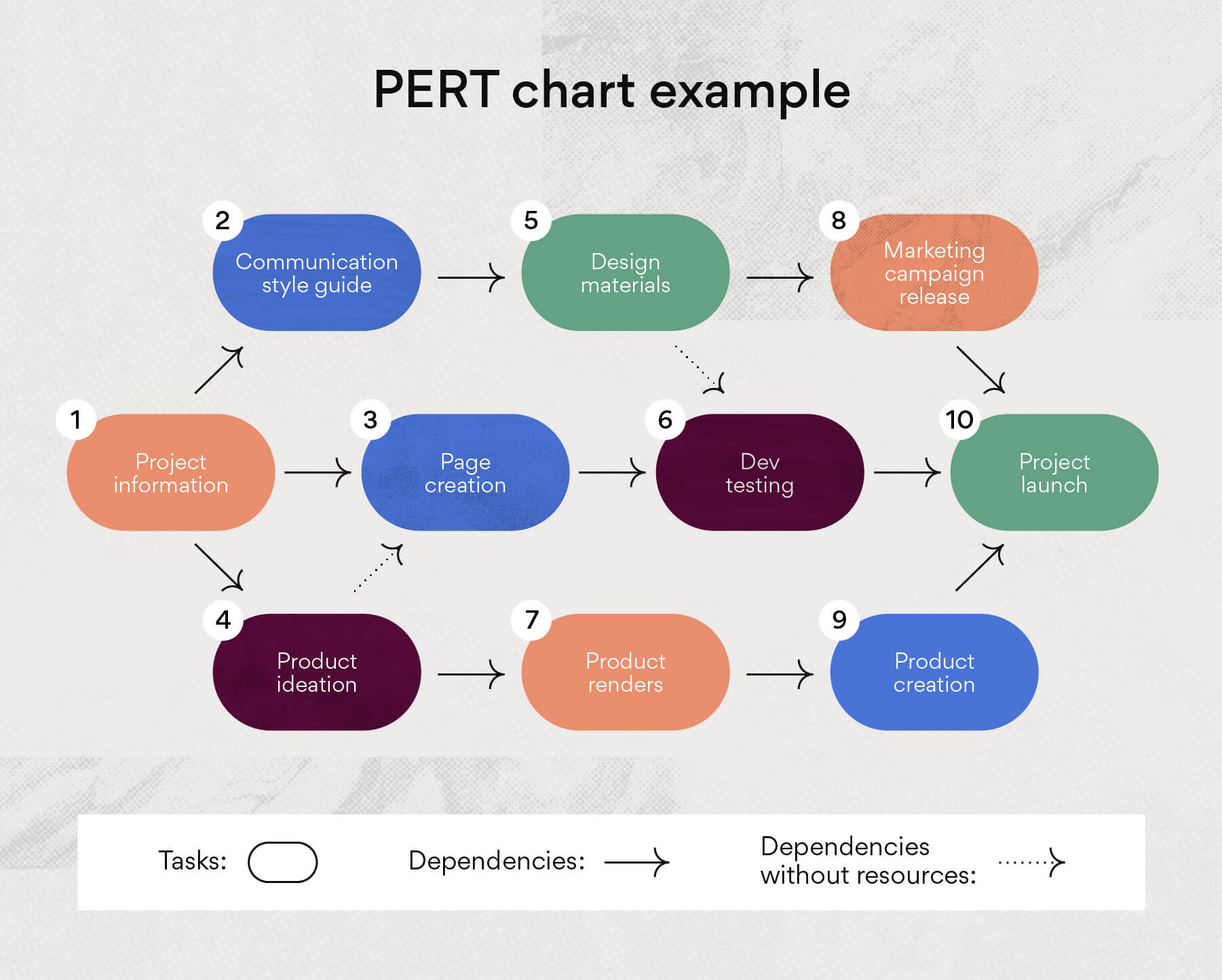 When Should Project Managers Make Use Of The PERT Chart?
A PERT chart should be planned out from the start of the project to assist you to reach your goals more precisely. A PERT chart generator allows you to see possible hurdles prior to the start of the project so that you can fix them right away.
You may be able to accomplish your project without utilizing a PERT chart or any other tool in some cases. This is particularly common in personal projects where you merely have checklists.
There are a few important situations in which a PERT chart is required for your project. They are:
When doing a feasibility analysis.

When you're getting ready for a big, complicated endeavor.

When there are several moving pieces in your project.

When you have a project deadline to meet. A PERT chart may be used to estimate the amount of time required to accomplish the project.
As previously said, the PERT chart is a visual depiction of our projects that provides us with the project's essential framework. It depicts the events that will take place within the project's scope (the objectives and criteria needed to accomplish the project). The PERT chart uses arrows to represent the order of events that must occur in order for the project to be completed. In addition, the PERT chart has dotted lines that indicate fictitious activity. Within each vector, you may assign the numbers and time allocation.
This chart has its own terminology, such as optimistic-the shortest time to complete a project, pessimistic-the longest time to complete a project, most likely-best estimated time for project completion without any obstacles, and expected time-best estimated time for project completion with problems and obstacles in the way. The projected time for the project's completion would be more realistic.
PERT Analysis
The Program Evaluation Review Technique is a way of inspecting the project's tasks. The PERT approach is then used to determine the project's critical route.
Critical Path Method (CPM) is a term used in Pert Analysis. It is a scheduling method for a set of project tasks. The critical route is the longest series of jobs that must be completed on time in order for the project to be completed successfully from start to end.
It signifies that phase is critical because if it is not completed on time, the entire project may be delayed. The time necessary to accomplish each task is calculated using the PERT method. It also examines the interdependence of tasks and calculates the project's projected completion time.
PERT analysis informs the project manager about the project's tasks and their projected completion times. With this, the project manager will be able to finish duties in the project in the shortest period of time possible.
For each action, three-time estimates are obtained: optimistic, pessimistic, and most likely, as well as a critical route for conducting PERT analysis.
The Pert Charting Formula
PERT Estimate = [O+(4M)+P]/6
The letters O, M, and P stand for optimistic, most probable, and pessimistic, respectively. These words have previously been defined. Optimistic refers to the quickest time to complete a job, pessimistic refers to the longest time to complete a task, and most likely refers to the best estimate needed to complete a work.
The Benefits And Drawbacks Of The Pert Chart
There are various benefits and drawbacks to using the PERT chart. Let's start with the benefits.
The Benefits of a Pert Chart
It gives the project manager a graphical representation of the whole project, which aids in breaking down the project into smaller jobs, estimating the time necessary to accomplish each work, and providing financial analysis of the project.
Project managers can do the job on a tight budget and in a short amount of time.
It's a good idea to plan ahead of time before beginning any activity. The PERT Chart is an excellent method for planning a project and maintaining operational management.
It assists the project manager in performing what-if analysis on project tasks and activities. It aids the project manager in identifying and overcoming problems.
Let's look at some drawbacks.
Pert Chart Disadvantages
The PERT Chart maintains a laser-like focus on the project's key route. However, this diverts your attention away from alternative options that might result in project failure.
When there are changes in the beginning or sequence of tasks in projects, the PERT chart will fail because there will be dependencies in the PERT chart that will be affected.
When working on large projects with hundreds of tasks, PERT charts can become difficult. Then it may be taught how to create a PERT chart for it. It also won't work if two or more projects are sharing resources.
Gantt Diagram
Gantt Chart is a graphical representation of a project's timeline. It's a type of bar chart that shows the start and finish dates of resources, planning, and dependencies in a project. The Gantt Chart was created by Henry Gantt (1861-1919), an American mechanical engineer.
Gantt charts are commonly utilized in heavy sectors like dam construction. Gantt charts are also the most extensively used project management charts.
The Benefits Of A Pert Chart Over A Gantt Chart
PERT and Gantt charts both provide a visual depiction of projects. However, there are some significant discrepancies between the two graphs. Although the Gantt chart is the most generally used chart, there are certain advantages to the PERT chart that we will discuss below:
The PERT chart depicts the interdependence of tasks better than the Gantt chart. The PERT chart performs a better job of indicating whether a task should be completed sequentially or concurrently.

The PERT chart's second benefit over the Gantt chart stems from the first. When it better depicts the interdependence or dependency of particular activities, it will naturally take less time to finish a project than a Gantt chart.
In comparison to Gantt charts, PERT charts can manage larger and more complicated projects.
PERT Chart Examples
The US Navy initially developed the PERT chart in 1950. Let's use this as an example of PERT. For the Polaris Fleet Ballistic Missile project, they created a PERT chart.
Their project managers were able to simply analyze the project's progress using that chart, and it worked well for them. Since the PERT chart became popular over the world. There are several PERT chart examples available online. Every organization can provide you with examples of PERT charts.
Final thought
When working on a project, PERT charts may be quite useful. There are several PERT chart templates available for download. The PERT chart demonstrates how to estimate the minimal time needed to complete every project job. This considers the project's breakdown, duration, and dependency of each activity, as well as the project's completion sequence.
A basic PERT chart template may make creating a PERT chart for your projects a lot easier. We've covered everything from what a PERT chart is to its merits and pitfalls in this article. I hope you enjoyed this article explaining the use of a pert chart in project management.
More Interesting Articles