(Last Updated On: April 23, 2023)
How to avoid project management failure? You're the project manager of a brand-new project, and you've completed your project planning and begun execution. Now you're planning what you'll say to your PMI colleagues at the next chapter meeting, putting together a magical spreadsheet to prevent project failure and revolutionize project control, and learning how to utilize a new whiz-bang software package you just got, when BAM – you're in trouble. A project disaster that you didn't see coming! This article will share some insights on how to avoid project management failure. Keep reading.

So, your project is in peril and is on the verge of becoming a statistic unless you take fast action. Wishful thinking, praying to the great god PMI, or slamming your head against the nearest brick wall won't help you turn back the clock, therefore you'll have to start the project recovery process.
Theme of Recovering
Do you remember the TV show M*A*S*H? When there was an inflow of injuries, the first thing they performed was "triage," which is defined as "the practice of prioritizing ill or wounded persons for treatment based on the gravity of the ailment or injury" by Encarta. In fact, they didn't rush in to treat the first injury they encountered; instead, they assessed each casualty's severity and then focused on the most critical condition first, moving down the priority list until everything was handled.
There might be a variety of issues with project execution, such as being behind time, over budget, under-resourced, or having low-quality deliverables that lead to non-acceptance. So, how can you bounce back from this impending disaster?
How to avoid project management failure
The first step in project recovery is to assess the overall project; an audit or project review using a set of standard questions should reveal the major issues and their severity. This will help you to prioritize project recovery planning and activity such that the most significant issues are addressed first, followed by the less serious issues. During the evaluation, you may discover certain places where you can halt the bleeding – for example, if the scope is inherently unstable and constantly changing, implementing a strong change control mechanism should at the very least assist to firm up and stabilize the scope.
The degree of preparedness for project recovery will vary by project; some projects may require complete anesthesia (stopping all work) in order to undertake a surgery (redefining scope or even another round of project planning). Some areas may require a plaster cast to immobilize a broken part (to prevent any further scope changes until the project is stabilized), others may require a bandage (corrective measures that may slow but not stop the project), and others may only require a sticking plaster (minor corrective measures that have minimal impact on overall progress), and others may only require some TLC (smooth out minor issues).
Recognize When a Project Cannot Be Recovered
You may find after evaluating the damaged project that there is no clear economic case for project recovery, in which case we should cut our losses and move on rather to wasting time and money on more planning. In this circumstance, we must arrange for euthanasia, allowing the project to die as painlessly and dignifiedly as possible.
If the project may be rescued, a well-trained project planning expert, often known as a recovery Project Manager, is needed to minimize recovery time, cost, and residual harm, or to identify when euthanasia is the best choice.
Motivating Stakeholders and Selling the Recovery Plan
After performing triage and avoiding project failure, the project planning expert must be able to construct and "sell" a prioritized recovery plan to all stakeholders. Communication is essential on every project, but it is more important during project recovery, when there may be a demoralized team, an irate client, apprehensive management, and disgruntled bean counters to appease.
When the plan is approved and recovery begins, the project planning expert must be able to inspire the team to achieve success, reassure customers and give them confidence in the project's eventual success, and provide bean counters with a realistic plan that can be measured and reported on a regular basis. Throughout the recovery, progress must be properly monitored, regulated, and reported, and responses to unanticipated occurrences (risks) must be decisive, swift, and effective, or we risk future project failure.
Finally, it's critical to keep your staff motivated during the recuperation time; include milestones that allow you to recognize and reward even minor accomplishments. Create a positive momentum based on success, such that meeting milestones is perceived as "normal" by the team and other stakeholders, but missing a milestone is exceptional and sticks out amid all the other accomplishments.
Take away
Project failure may be avoided with adequate project planning and controls based on a well-constructed deliverables-based Work Breakdown Structure. Once a project begins to fail, however, there are ways for recognizing it, minimize the scope of the failure, and ensure a successful recovery on the basis of your understanding on how to avoid project management failure.
There may be some collateral damage along the road, such as a reduction in scope, more time, and/or increased expense, but these may be reduced with excellent project planning and prompt intervention when necessary. Not only should a project manager be taught in these approaches to recover a failing project, but also to decrease the likelihood of developing one in the future!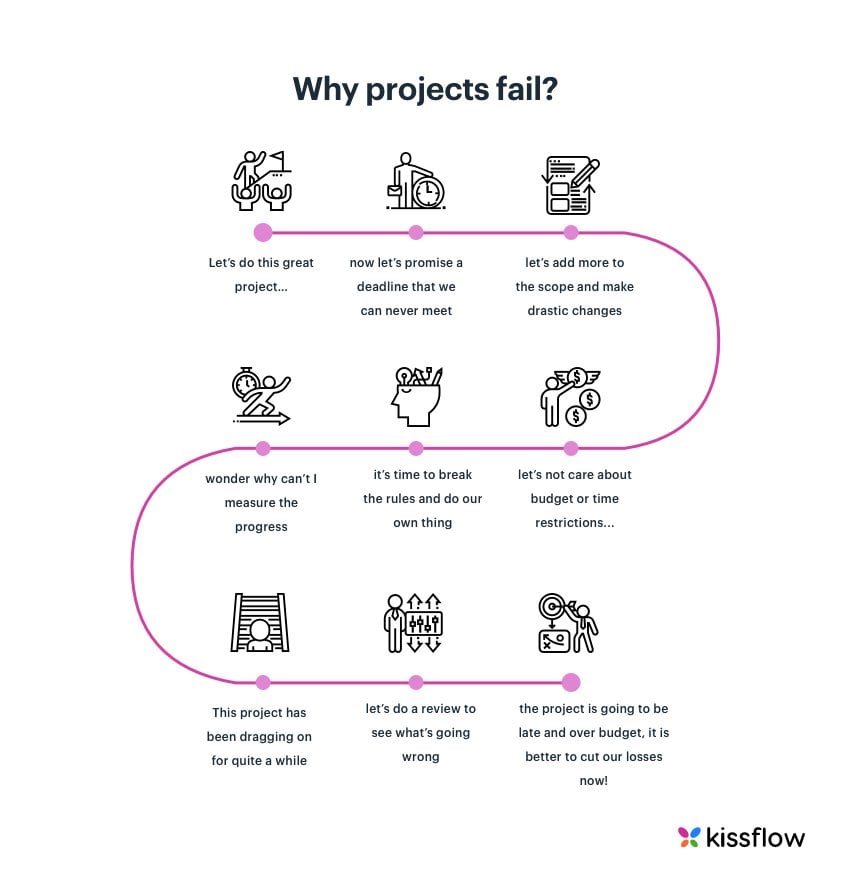 More Interesting Articles