(Last Updated On: August 9, 2023)
How to bathe your cat? It is critical to understand how to wash your cat. Cats do a good job cleaning themselves most of the time, but they may want assistance from time to time. In this scenario, knowing how to properly bathe your cat is critical. In this article, I am going to share some tips on how to bathe your cat.
Giving a cat a bath can be a tricky task since most cats dislike water and being wet. Dry bath products are now available on the market to avoid giving your cat a bath completely; however, these treatments are better utilized to maintain your cat clean and healthy rather than to clean them up after a mud roll.
Venturing into the intricate currents of feline bath time embarks upon a voyage that mandates a deft touch, an acute awareness that resonates harmoniously with the nuanced sensibilities of your whiskered ally. Felines, celebrated stewards of their personal hygiene, sometimes extend a call for human intervention within the sphere of bathing.
How to bathe your cat Step by Step
In the kingdom of feline nature, water often assumes the role of the adversary, triggering a chorus of protest against the drenching ritual. The cascade of moisture enveloping their fur propels them into unfamiliar terrain, frequently adorned with an air of unease. Amidst this equilibrium of apprehension emerges an alternative narrative – the realm of dry bath products. These alchemic concoctions proffer a glimpse of cleanliness without the baptismal submergence. However, their true purpose transcends the realm of post-mud atonement; their essence resides in the commitment to perpetuated purity.
These products perform an intricate ballet, swaying in harmony to the rhythm of eliminating unwanted odors while elegantly sidestepping the cascading waters. This choreographed synchronization spawns an oasis of hygiene, seamlessly coexisting with the kingdom of flea treatments. A vigil of discernment surfaces, manifested in the meticulous perusal of labels. The essence of their coexistence with both feline and human sensitivities demands an unwavering gaze.
The spotlight, nonetheless, pirouettes toward scenarios where your feline confidant, often the weaver of mischievous tapestries, emerges from the great expanse of nature enshrouded in the remnants of the earth – mud, paint, or potentially deleterious compounds. The prologue is set for an intervention, a symphony of cleansing.
Prelude to the Bathing Saga
Picture the tableau: your feline confidant returns home, an unwitting canvas of dirt and grime. This image beckons the clarion call for a cleansing mission. The urgency amplifies when the clinging material on their coat presents potential toxicity. As a conscientious pet owner, the prospect of admitting them into your abode sans intervention invokes a labyrinthine dilemma. The fear of dirt's imprint on furniture and floors morphs into a daunting reality.
In these junctures of soiled urgency, the notion of allowing your cat's immersion in their self-afflicted filth loses its appeal. The alternative, embarking on a cleaning odyssey bereft of clarity about the nature of the clinging substances, emerges as a precarious endeavor. The principle of averting foreign substances from becoming unwitting dietary choices for your feline friend is a guiding principle.
Pondering the Bathtime Paradox
The realm of feline care rarely intersects with the act of bathing. It often rests as a dormant chapter, awakened only in circumstances that demand clarity and strategy. Should you be summoned into this aquatic arena, the sage counsel is to possess an intrinsic comprehension of the art.
Occasionally, the winds of fortune might bless you with a feline who embraces water with a spirit of enthusiasm. Yet, the majority of cats approach the threshold of bath time with a cocktail of apprehension and skepticism. Within this atmosphere of anticipation, an essential query surfaces: will your feline companion confront the aquatic frontier with vehement resistance or passive tolerance? The protective cloak of preparedness enfolds both you and your feline, particularly considering the arsenal of defense mechanisms they wield, often in the form of their formidably sharp claws.
Crafting a Bathtime Strategy
As the choreography of feline bathing unfolds, a symphony of precautions takes center stage. Should you be armored in leather jumpsuits and bird-handling gloves, the path seems straightforward. However, for most, such attire remains beyond reach and unnecessary.
Long sleeves and rubber gloves become your allies, affording a layer of protection against potential skirmishes. The fabric of choice, be it denim or robust cotton, should withstand your cat's claws without yielding.
Creating the Optimal Setting: A Prelude to the Bath
The setting for your feline bath venture should harmonize with the size of your cat and the magnitude of its anticipated resistance. For diminutive felines and kittens, a sink might provide a suitable stage. In the absence of a fitting sink, the bathtub can be requisitioned. Sealing off entrances stands as a priority, and if your bathtub boasts a glass shower door, enclosing your bathing realm within becomes a wise choice.
Preparing for Resistance
Before initiating the bath, remember that your feline friend will likely detect an impending venture outside their comfort zone. Running water's auditory symphony or splashes in the tub might evoke fear. The trajectory of a shower-like experience, though, should be sidestepped, as the unpredictability of a cat's reaction might lead to chaos.
Initiating the Bathtime Ritual
As you embark on the bath mission, the gentle approach emerges as your best strategy. A small tub of water awaits, with a nearby cup primed for a gradual cascade upon your cat's fur. Amidst this watery duet, it's pivotal to maintain composure, for you are the conductor in this symphony of cleanliness. Tread carefully, ensuring that your cat's movement remains restricted to an extent that safeguards both parties.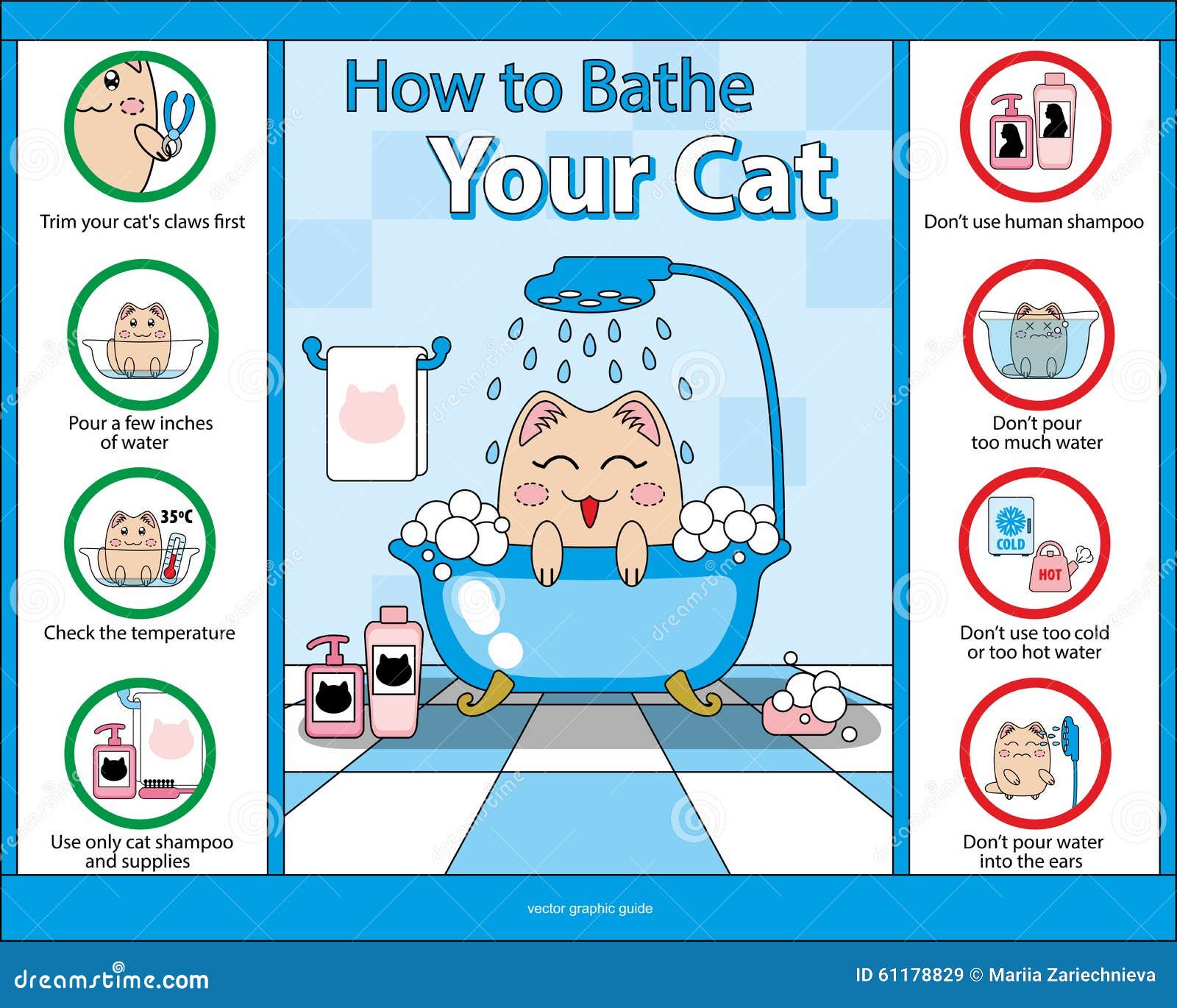 A Tale of Controlling
As control gains a foothold and water enrobes your feline, a rhythm of swift action unfolds. Ensuring every nook and cranny of your cat's coat is soaked, your hands become a chorus of care, navigating their face with heightened vigilance. Shampoo, the secret agent of cleanliness, lathers up in this watery arena. Pay heed to the visage, exhibiting heightened caution around sensitive regions like the eyes.
Guiding Your Feline Through Bath Time
Embarking on the cleansing ritual of your feline companion marks a delicate juncture in your pet-care journey. As your cat emerges from the soaping stage, the next chapter unveils itself, intertwined with rinsing, drying, and the orchestration of a harmonious end. This discourse endeavors to elucidate the intricacies of these final phases, culminating in a harmonious bath time experience.
The Cascade of Rinsing: Unfurling Gentle Efficacy
Once your feline friend has been enveloped in soap's embrace, the transition to the rinsing stage is imminent. A gentle cascade of water mirrors your earlier pouring technique, rendered with the same finesse you displayed with the cup and the tub's water.
For optimal results, a reserve of fresh, pristine water may be kept at the ready. In this act of rinsing, the very fibers of your cat's coat become the canvas. Your fingertips, like the brushstrokes of an artist, seek out and unravel any matting, charting a course through densely cloaked regions.
As you navigate this aquatic choreography, the objective is clear: thoroughness. The symphony of rinsing crescendos, yielding to the eventual draining of the tub. This step signifies the journey's end, while also marking the transition to the drying phase, where the convergence of wet and dry holds a captivating allure.
Easing into the Drying Interlude: A Symphony of Towels and Care
The drying chapter unfolds a transition that might appear more daunting than it is. While complete dryness might elude immediate accomplishment, your steadfast effort ushers forth a partnership with time. Enveloped in towels, your feline companion embarks on a journey of shared warmth and gradual evaporation.
As you release your cat from the confines of the sink or tub, the designated space becomes your temporary stage. Anticipate your feline friend's instinctual response, a symphony of shaking akin to their canine counterparts. Amidst this orchestrated dampness, your hands become the conductors, orchestrating a gentle yet enthusiastic massage with the towel.
The Intricacies of Drying: A Feline's Natural Course
The after-bath finale heralds your cat's intrinsic method of drying – the meticulous self-grooming routine. With relentless determination, your feline companion proceeds to envelop each inch in the warm embrace of a tongue bath. The remnants of water yield to the cat's tenacity, evaporating gradually under this calculated cleansing ritual.
As you survey this meticulous drying performance, the choice emerges – to leave your cat within the bathroom's comforting confines until the final notes of dryness resonate or to let them embark on their path of self-drying within the broader household context.
How To Give a Cat a Bath Without Water?
Cats, those elegant denizens of the domestic realm, may not partake in the canine frolics of mud-rolling escapades. Yet, their propensity for stumbling upon untidy predicaments remains a constant, as life occasionally casts them in the midst of muck and grime. While they typically take meticulous care of their own hygiene, age or ailments can lead these feline groomers to be less diligent. When this occurs, the mantle of cleanliness falls upon their caring owners.
The realm of water, often met with skepticism by our feline friends, prompts a quest for alternative methods of cleansing. Within the confines of this discourse, we shall delve into the art of bestowing a feline bath sans water, encapsulated in six meticulously orchestrated steps. As we delve deeper, prepare to navigate the intricacies of this endeavor, embracing the materials, methods, and mindset that converge to form a symphony of feline rejuvenation.
Prior to the Prelude
Before embarking on any endeavor infused with potential stress, it is paramount that both custodian and cat inhabit a realm of mental serenity. Calmness should envelop the feline, with relaxation reigning supreme. Hunger and weariness should be kept at bay, as they can distort both feline and human dispositions. It is prudent to eschew the endeavor if stress or hunger gnaws at you, for your feline companion can sense your emotional tapestry and respond accordingly.
The Prelude to Purification: Materials in Place
As the moment approaches to anoint your feline with cleanliness, an array of supplies takes center stage. Among them, a towel, a swathe of cleaning wipes tailored for pets, or a vial of waterless shampoo. An accommodating brush, a soft cloth or washcloth, and a selection of treats stand as accomplices in this endeavor. Assemble these allies of hygiene and carry both materials and your feline to a tranquil chamber. Before commencing, ensure the feline's demeanor sways in the embrace of relaxation.
The Elixir of Cleanliness: Unveiling Dry Shampoo
Dry shampoo emerges as a linchpin in this repertoire of rejuvenation. Among the chosen contenders, Hepper's Cucumber & Aloe Dry Shampoo emerges as a beacon of excellence. It not only enlivens the fur and skin but quells irritation in its wake. This formula, balancing the pH and bereft of the need for rinsing, paints the feline's domain with the soothing essence of cucumber and aloe. The dance of cleanliness commences, anointing the feline with a renewed radiance.
With these steps unraveling, the discourse weaves a tapestry of feline rejuvenation, where the art of cleansing meets innovation, culminating in a symphony of well-being.
A Feline Bath Without Water: Nurturing Tranquility and Cleanliness
Step 1: Creating a Haven of Comfort
Embarking on the odyssey of feline bath time sans water demands a prelude of comfort. To instill a stress-free ambiance, invite your feline to recline within their chosen sanctuary. Perhaps your lap beckons, adorned with a gentle towel, where your cat can luxuriate in a snug embrace. Or perchance, the floor, a bed, a cat tree, or even a countertop holds allure. Bestow the liberty of choice upon your feline, allowing them to imbue their surroundings with an aura of serenity before advancing.
Step 2: The Emissaries of Cleansing: Pet-Safe Wipes
Enter the realm of pet-safe cleansing wipes, the first among two bastions of commercial solutions. In your selection, bear in mind the feline aversion to overpowering scents. Opt for a fragrance-free variant, a choice aligned with your feline's olfactory predilections.
With deliberate grace, the gentle caress of a wipe graces your feline's form. The dance of rejuvenation enfolds, with an emphasis on the nether regions, potentially soiled by urine or feces. Your touch mimics the cadence of affectionate petting, an artful illusion that bridges the divide between human and feline.
Should trepidation ripple through your feline's demeanor, let reassurance unfold in the form of treats or a tender chin rub.
Step 3: Unveiling the Enigma of Waterless Shampoo
Enter the realm of waterless shampoos, a tryst manifesting in the form of foam or spray. Engineered to cleanse sans the need for rinsing, these elixirs wear the mantle of innovation. Amidst the cavalcade of choices, favor those bereft of potent scents, a gesture mindful of your feline's discerning sensibilities.
Amidst this aromatic ballet, an elemental symphony of sound emerges. For felines endowed with sensitivity to auditory stimuli, the spray or foam's resonance might kindle unease. A prescient solution unfurls – pre-wetting a cloth or depositing foam into a bowl before application.
Adhering to the script etched on the product label, the baptism of waterless shampoo transpires. Hands or a brush, appointed as conduits of cleanliness, orchestrate the infusion of shampoo into the fur's tapestry. A swathing of cloth eradicates excess, revealing a visage imbued with renewed luster.
Step 4: A Delicate Choreography: Cleansing the Countenance
Amidst this aquatic symphony, a pas de deux of precision ensues, a reverent choreography reserved for the feline's visage. Precision unfurls, particularly in the vicinity of the eyes and mouth, reservoirs of delicacy. A pristine cloth, anointed with waterless shampoo, commences the delicate waltz, guided by a vigilant hand.
The feline's visage unfolds as a canvas, showcasing the aftermath of gustatory escapades. The terrain surrounding the mouth, notably the chin, dons a tapestry of grime from indulgence in wet repasts. Here, meticulous cleansing unfurls, a gesture mirroring the care bestowed upon a cherished work of art.
To harmonize this ballet, employ your second hand in a symphony of distraction, offering gentle caresses or playful scratches. This rhapsody of touch both engages your feline and steadies their visage, rendering the choreography fluid and serene.
Step 5: A Symphony of Appreciation: Rewarding Cooperation
As the waterless bath concludes, a crescendo of appreciation takes center stage. A panoply of rewards emerges, from delectable treats to the allure of catnip or engaging playtime. This orchestration extends beyond mere closure; it forges bonds of positivity, enmeshing the experience within the realm of harmonious cooperation.
Within this symphony, the notes of treats are woven sporadically during the bath surface as harmonious interludes. These melodic interjections cultivate tranquility, nurturing a feline's equanimity amid the bath's unfolding.
Step 6: The Enigma of Moderation: A Covenant of Cleanliness
The journey culminates in a solemn vow of moderation, a creed essential to the feline's well-being. Repeated baths, even within the waterless expanse, bear the potential to parch the skin and desiccate the coat. A delicate equilibrium wavers, as shampoos and wipes dance perilously close to the feline's intrinsic oils, guardians of moisture.
Amidst this labyrinth of considerations, an alternative emerges. The brush, a tool of elegance, reigns as a champion of the coat's lustrous well-being. Regular brushing, a caress of dedication, assumes the mantle of caretaker, rendering frequent baths an echo of the past.
In summation, a tapestry of cleansing unfolds, emboldened by innovation and tradition, a journey that bestows well-being upon the feline realm.
Navigating the Waters of Necessity: A Full Water Bath for Your Cat or Kitten
In the realm of feline care, certain junctures materialize that demand an embrace of the watery abyss—a full water bath—a recourse compelled by circumstances unfurling beyond our sphere of choice. A scenario could manifest when your feline companion grapples with the stubborn grip of a skin affliction such as the formidable ringworm.
In this unfolding narrative, the same tenets of care, previously unveiled for waterless bathing, once again find their place in the spotlight. Like a maestro leading a symphony, you step forward, embracing the tempo of gradual progress, crafting an environment infused with serenity. Calm, patience and the allure of treats intertwine to weave a tapestry of positivity.
As the aquatic expedition unfurls, a constellation of supplementary insights augments your toolkit for navigating these waters:
The Shield of Preparation: Safeguarding the Facial Sanctum
The canvas of your feline's face assumes an ethereal significance, and thus, a strategic barrier is erected to guard this sanctuary. The decree emerges—neither water nor its droplets shall dare to cascade upon your feline's visage or breach the threshold of their eyes. The essence is preservation, paying homage to the intricate contours that embody their identity.
The Companion's Grace: A Trust-Bearing Ally
Within the immersive theatre of the bath, the companionship of an ally unfurls as a salient theme. Should this ally be a denizen of the household, a confidant known and trusted by your feline, their presence is akin to a warm embrace amid unfamiliar waters. The synergy of assistance melds with trust, rendering the bathing process an exploration tethered to comfort and familiarity.
Sculpting Precision: The Prelude to Immersion
In the choreography of bathing, the overture assumes the form of meticulous nail trimming. The catharsis of neatly pruned nails sets the stage for the aquatic ballet. The tendrils of coldness find no refuge within this aqueous odyssey, as you preside over a bath staged in the warmth of your surroundings. As the final curtain draws near, a thorough drying takes center stage, a choreography that vanquishes any remnants of dampness.
The Pathway to Assurance: Traction for Confidence
Within the heart of the tub, the elevation of safety is a motif woven with purpose. The introduction of a bath mat or towel into this watery tableau is a gesture of reassurance, an invitation for your feline companion to tread boldly. Each paw finds traction upon this canvas, every step a testament to your care and foresight.
The Poetry of Immersion: A Tale of Moderation
The chapter on immersion is an ode to moderation, a poetic composition where water's embrace remains gentle, not overwhelming. The waters, although present, abstain from the realm of submersion. Instead, they cascade delicately against your feline's form, honoring a balance between cleansing and comfort.
In this realm of essential baths, where water's touch becomes a necessity, you march onward as a steward of your feline's well-being. With each splash and every droplet, you embrace the symphony of care, orchestrating a harmonious blend of obligation and affection.
How to Bath a Cat That Hates Water
Navigating the realm of feline hygiene unveils a delicate balance between necessity and sensibility. While cats are formidable self-groomers, moments arise when their sovereign grooming routines may necessitate a helping hand, particularly in the presence of ornate, lengthy fur.
Amidst this labyrinth, the labyrinthine concept of moderation governs. Too-frequent baths may, paradoxically, rob their fur of vital oils, while also casting a shadow of trauma. Hence, the decision to engage in a bathing endeavor should be measured, honoring the delicate equilibrium of the feline realm.
The Nexus of Frequency: Deciphering the Need for Baths
In the symphony of feline hygiene, a probing question emerges: How often should the elusive dance of bathing be undertaken? The terrain of necessity encircles scenarios where the feline has been ensnared in substances they cannot cleanse themselves of, or where their lengthy fur has woven itself into a matted tapestry. A bath, once deemed trivial, now emerges as a bastion of restoration.
Intriguingly, feline finesse harbors a daily ritual of self-grooming, a feline ballet ensconced in dignity. A lick of the tongue, a bewitching display of elegance, weaves itself into their daily regimen. However, when their coat bespeaks more than a mere dalliance with dust, when the residue transcends the threshold of a transient affair, the bells of prompt response chime. Engaging in a swift cleansing waltz becomes a non-negotiable decree, a testament to a caring steward.
When Toxicity Beckons: An Ode to Urgency
Within this cavalcade of considerations, a note of urgency resounds. When the feline's fur wears a cloak of potential toxicity or corrosive essence, the realm of urgency unfurls its wings. Emanating from substances as ominous as battery acid or pesticide, this realm of contamination warrants immediate action. A tinge of panic guides one's steps, the veil of haste overshadowing all else.
In these dire junctures, two allies emerge – restraint and swiftness. To obstruct the feline's instinct to cleanse the affected area, a gentle towel's embrace or a head cone emerge as veils of protection. Swift steps tread the path to the sanctuary of veterinary care. Yet, even amidst the panic, a call to the clinic heralds preparedness, as the veterinarians ready themselves for your arrival.
A Symposium of Calm: Crafting a Serene Bathing Experience
Emerging from the shadows of urgency, a symposium of calm beckons. How can one bathe a feline, whose aversion to water is woven into their essence, without igniting a tempest of stress?
Embark upon a journey of six strategic steps:
The symphony of positive reinforcement orchestrates success. Encourage your feline through tender strokes, weaving an embrace of support throughout the endeavor.
Mastery of demeanor is paramount. A placid mien, free from scolding or rough handling, crafts an oasis of tranquility. Felines, adept at detecting emotional nuances, resonate with your mood, be it a pedigreed Toyger cat or a mingling of diverse breeds.
The basin emerges as the stage, a realm wherein your feline's comfort is cocooned. The introduction of a beloved toy or the allure of treats invites your feline to a watery rendezvous, imbuing the bath with auras of positivity.
Prepare an arsenal of bathing implements, poised to cater to every need – brushes, cat shampoo, towels, and more. Each element is a note in the symphony of serenity.
Before bathing, a dance of dry brushing ensues. The tangles, precursors of disorder, are deftly obliterated. The bath, thus, unfurls as a canvas of refinement rather than a mire of toil.
The moment of truth beckons, as water and feline engage in a delicate duet. The interplay of a wet washcloth or your gentle hands mingles with the catharsis of rinsing. The central theme: patience, the key to harmony.
For Felines Braving Water's Embrace
For felines that exhibit a modicum of tolerance towards water's touch, a distinct path unveils itself, rife with insights:
Grooming takes precedence. Proper brushing and the gentile trimming of claws, avoiding the living part that throbs with pain, assumes significance.
The basin, bedecked with water, beckons. A haven of comfort, free from drafts, unveils itself. The depth, a calculated balance between scoop and swim, cradles your feline's comfort.
Temperature, an arbiter of comfort, dons the spotlight. The water's embrace, nearly in semblance to a cat's body warmth, enforces equilibrium. The elbow test emerges as an oracle of readiness, cautioning against extremities of warmth or chill.
A canvas of containment forms, as doors and windows are secured against the prospect of escape. The stage is set for a wet communion, where harmony entwines with wet fur.
The symphony of reassurance takes the stage, a melody of low tones and tender touch. Felines, poets of nuance, attune to these gentle refrains. Stability is paramount, as you grant your feline the liberty to find a position of comfort.
Shampooing beckons, an art governed by restraint. The sacred trinity of head, mouth, and eyes remains safeguarded, as you indulge your feline's body with the essence of cleanliness.
The crescendo arrives, a baptism of freshness that unravels as a plunge into familiarity. Rinsing, in waters of comparable temperature, takes center stage, an encore of hygiene that resonates through the feline's being.
The finale nears, as the feline's wet form seeks the shelter of towels. The melody of gentle drying commences, a tactile serenade of comfort and care.
A symphony of closure envelops all, as a reward or treat punctuates the final note. Assurance unfurls, echoing through the feline realm: all is well, and cleanliness reigns.
Navigating the Threshold of Feline Bathing: Knowing When to Abstain
In the grand tapestry of feline care, a riddle weaves its intricate threads: when should the bathing ritual be withheld, a symphony of water left unsung? Discerning the moments when feline fur remains untouched by cleansing waters emerges as an art infused with sagacity. Here, the canvas embraces instances where caution takes precedence over the caress of water's touch.
The Age of Delicacy: A Prelude to Abstention
In the burgeoning chronicles of feline life, a decree emanates: the tender paws of tiny kittens merit a realm untouched by the caress of water. Orphaned or abandoned, these fledglings harbor hypersensitivity, their fragility dancing in tandem with the rhythm of their heartbeats. The cloak of water, a transformative entity, holds the potential to alter their very body temperature. The cautions of The Spruce Pets resound: only when the kitten treads the path of four weeks may the waters embrace it.
The tapestry expands, woven with threads of health and vitality. A cat perched on the precipice of frailty and ailment navigates delicate waters. Their resilience against temperature shifts, a teetering balance, requires preservation. Strays and ferals, ensnared by the clutches of affliction, demand the ministrations of a vet, orchestrating a symphony of restoration from the very inception.
Within the realm of wounded souls, a directive beckons – when wounds paint a portrait upon your beloved feline's canvas, the sanctity of moisture must be heeded. Be the wounds neatly sutured or nurtured under the wing of antibiotics, the moisture's touch embarks on a clash with healing, an interference that demands vigilance. A decisive nod to the realm of pet medical professionals emerges, for their expertise is the beacon that shall guide the afflicted.
The Psyche's Labyrinth: Charting Uncharted Territories
In the journey toward understanding, the enigma of a cat's psyche unfurls. There exist junctures where the bath, however well-intentioned, yields dissonance. When the waters' embrace births reactions veiled in extremity, when leaping out becomes a feline ballet, and when strange sounds morph into a serenade of distress, one must cease. The hisses, a language of unease, encapsulate the turmoil that blooms within. The advice of veterinarians becomes a compass, pointing toward uncharted recesses of injury or psychological unrest.
Unveiling the Palette of Feline Preferences: Showers and their Discontents
Amidst this discourse, an inquiry unfurls: do cats find solace in the cascade of showers? The answer unveiled with candor, echoes with a lack of enthusiasm.
The paws, a quintessential extension of their identity, resound with a shared sentiment – the reluctance to be shrouded by moisture. The Bengal cat and the Turkish Van, anomalies within the feline realm, traverse waters with an elegance that leaves the rest in awe. Showers, while a tapestry of human rejuvenation, remain at a distance from the feline's heart. Their fur, a testament to elegance, houses tools of grooming, crafted by nature itself.
A showerhead, a symbol of rejuvenation for humans, assumes an unexpected role. Akin to a dance of duality, it serves as both ally and adversary. A skillful hand can hold a feline in repose, while the other weaves the narrative of cleansing with a shower's gentle embrace. Yet, as the symphony progresses, a caveat unfurls – inflexibility in the head's movement might cloak the ears with dampness. A tactile vulnerability emerges, where the ears' exquisite sensitivity meets a potential pH imbalance that begets infections.
A Sojourn into Kitten Bathing: Crafting a Symphony of Slow
Embarking upon the threshold of kitten bathing, a journey unfurls, intricate and tender. Six steps weave a tapestry of guidance, a lighthouse for novice bathers:
Vigilance shields the feline's visage, a tender sanctuary away from the cascading waters. A cloth, moistened and pure, nurtures the essence of hygiene.
The stage is set, a canvas brimming with mere inches of water. The waters are both a friend and a foe, their depth orchestrated to unmask a dance of safety.
Drizzles of water compose a symphony, a melody that guides the essence of cleanliness. The cup's dip, an artful technique, births a cascade that resonates with serenity.
Amidst the watery ballet, the lather is a gentle touch. The hands, vessels of gentleness, weave a narrative of care amidst the tapestry of water.
The finale approaches, marked by a gentle rhythm of rinsing. Massaging, an act of reassurance, resonates in harmony with the cat's heartbeats.
The lullaby of comfort finds its crescendo. Amidst calm, the towel emerges as a shield against the embrace of cold.
Ensconced within calm, the foundation is laid. Impatience is met with swiftness, a dance against the flow of time.
The sanctity of warmth envelops the setting. Steam, a partner in comfort, softens the air as the kitten braves the waters.
An Ensemble of Wisdom: The Chronicles of Abstention
As the odyssey nears its end, an ensemble of wisdom takes center stage, resounding with prohibitions and solutions alike:
Waters, while an ally, must be wielded with care. The dark abyss of complete submersion must be averted, a dance that protects against the ingress of moisture into unintended orifices.
The allure of cotton wool, a deceptive promise of dryness, finds itself debunked. The natural rhythms of the feline's being shall expel moisture, rendering external interventions superfluous.
The voice of discipline refrains from a crescendo of scolding or reprimands. Patience and guidance are the tokens exchanged, as a cat's understanding unfolds like a parchment of comprehension.
Alternatives emerge, gentle brushes against soiled territories. Damp cloths, ambassadors of cleanliness, ply
A final verse embraces the maestros of grooming. Professional groomers, skilled in the dance of feline cleansing, beckon as luminaries of serenity and care.
In the realm of cleansing, a universal truth unfurls – human shampoos and conditioners are taboo. The feline's pH, an enigma unto itself, disdains the embrace of human liquids, birthing the specter of skin reaction.
A symphony of caution guides the path. Never unleash the spray upon their visage, for dampness's whisper might morph into an aria of discomfort. A damp cloth, a muted alternative, takes the stage instead.
What Not To-Do when bathing a cat?
Cats and water, a dichotomy oft marred by dissonance. Yet, within the realm of feline companionship, a juncture arises where the amalgamation of these elements becomes a necessity, a tapestry woven with threads of health and happiness. The sanctum of hygiene, a bastion against afflictions, beckons cat owners to embark on the journey of feline bathing. An enigmatic voyage, laden with pitfalls and promises.
Within the cadence of this discourse, we unearth the myriad mistakes that can paint bath time with strokes of distress and danger. A melange of erroneous choices and misguided steps, a symphony of missteps that reverberate through the corridors of feline well-being. Here, we don the mantle of guidance, unearthing what not to do when immersing your feline friend in the embrace of water.
The Perils of Human Grooming: A Cautionary Tale
The chronicles of feline hygiene, an ensemble that commences with regular baths. Yet, within this narrative, a caveat lies entwined – the perilous territory of human shampoo and soap. These agents, laced with chemicals that wage war against natural oils, stand as adversaries against a cat's fur. The aftermath is a symphony of dryness and brittleness, punctuated by the specter of breakage. The orchestra of skin, an ensemble of sensitivities, resonates with irritation and dryness when these harsh substances take the stage. The skin, a canvas of resilience, succumbs to the throes of discomfort and affliction.
A somber truth unfurls – human grooming products, though allies to humanity, are not companions to felines. The threshold of a cat's constitution, a realm of sensitivity to certain chemicals, transforms human-safe havens into arenas of toxicity. The veil of danger extends to the very act of grooming, a realm where licking and grooming may pave the path for peril.
To navigate these tumultuous waters, the compass points toward a shampoo tailored for feline essence. An elixir of gentleness, these products bear nature's offerings – aloe vera, oatmeal, and chamomile, their touch soothing and their purpose resonating with moisturization. The following guidelines unfurl as guardians against mishaps:
– Human shampoo and soap, a realm forbidden: A directive that rings with urgency, the refrain against using human grooming products on felines resounds.
– Embrace the lukewarm: The temperature, an orchestration of care, must resonate with lukewarm tenderness. A touch that mirrors the feline's constitution, void of scalding or discomfort.
– The ears, a sanctuary to protect: Cotton balls, sentinels of security, shield the feline's ears from the clutches of water's ingress. A special ear cleaner, a chorus of purity, crafts a symphony of protection.
– Bath frequency, a tale of moderation: Excessive baths, a tango with oil depletion, relinquish the cat's skin to the clutches of dryness and irritation. Three months, a mark of moderation, becomes the threshold for bath indulgence.
– The art of gentleness and patience: The bath, a narrative woven with patience, demands a symphony of gentleness. To eschew force, to shun roughness – a resonant lesson that curates calmness in the midst of splashes.
Navigating the Sea of Temperature: A Ballet of Caution
Within the labyrinth of feline bath time, temperature emerges as a maestro of comfort and distress. A symphony of caution warns against the embrace of hot water, a cauldron of discomfort and potential harm. The feline constitution, a bearer of elevated body warmth, unearths dissonance in the realm of human comfort.
Lukewarm waters, a blanket of solace, encase the feline in tenderness. A touch, measured by the human hand or the thermometer's gaze, guides the bath's inception. Sudden exposures, a dance with discomfort, beckon caution's hand.
Within this choreography of safety, an ensemble of practices emerges. Cat-specific shampoo, a conduit of gentle cleansing, cloaks the feline in nurturing care. The eyes, the windows to a soul, the ears, guardians of balance, elude the touch of water. Post-bath, treats, and praises unfurl love's tapestry woven as the bathing's finale.
A Vital Reminder: The Dance of Bathing
A feline's stance toward water, a juxtaposition of wariness and resistance, steers the course of this endeavor. Patience, the compass to navigate these waters, emerges as a beacon of hope. Bathing, the odyssey of cleaning, becomes a tableau of gentleness.
In retrospect, these lessons remain:
Hot water's embrace must be shunned.
The tapestry of lukewarm waters unfurls.
The temperature's touch must be tested ere it bathes the feline.
Cat-specific shampoo becomes the quintessential choice.
Ears and eyes elude water's caress.
Post-bath, rewards embellish the experience.
In conclusion, the art of feline bathing is a symphony of diligence, a choreography where mistakes, when shunned, pave the path for comfort and safety.
Avoid Getting Water in Your Cat's Ears
In the theater of feline bathing, an intricate choreography unfolds, centering around the realm of ears – those delicate portals that usher sound into a cat's world. These ear canals, a tapestry of sensitivity, stand as sentinels against the cacophony of discomfort, irritation, and potential infection that can arise when water finds its way within.
Yet, amidst this labyrinth of concern, a beacon of assurance emerges. A constellation of strategies, simple yet significant, unfurl to safeguard your cat's ears during the bath, transforming the daunting into the manageable.
A Prelude of Preparation
Before embarking upon the aquatic symphony, assemble the instrumentalities of your endeavor. In your ensemble of essentials, secure a towel, cat-specific shampoo, and a vessel for rinsing – a cup or spray bottle. Additionally, extend your preparations to encompass cotton balls or pads, a safety net against inadvertent aquatic intrusion.
The Prologue: Cleansing and Caution
As the curtain rises on the bath, a prologue of prudence takes the stage. Prior to the bath's inception, a gentle choreography commences – the cleansing of your cat's ears. With the grace of a cotton ball or pad, the inner chambers are caressed, dislodging any vestiges of debris or earwax. This prelude augments your defense against water trespass.
The Dance of Diligence
Amidst the bath's ebb and flow, a measured dance ensues. A waltz of water's embrace, a dance with care. As rivulets cascade, be vigilant around the crown of your cat's head, a sanctuary that houses the ears' fragility. A cup or spray bottle, wielded with tact, directs streams with precision, sparing the head's direct baptism. Should necessity beckon, a moist cloth takes the stage, a performer tenderly choreographed to caress the ear's environs.
The Accidental Intrusion: A Remedial Response
Yet, in the theater of life, mishaps may grace the stage. Should water, despite precautions, ingress into your cat's ear, tranquility becomes your ally. A cotton ball or pad, a vessel of absorbency, becomes the first line of defense. With tenderness, they absorb the errant moisture, the cat's stoic cooperation facilitating this gentle correction. Alternatively, a subtle tilt of the head, an inclination toward equilibrium, aids in the drainage of excess water, a natural process nurtured.
An Ode to Prudence: Additional Considerations
In the chronicles of feline bathing, prudence extends its reach, whispering guidelines that paint a tableau of safety:
Refrain from employing cotton swabs or any instrument that may propel debris deeper into the ear canal.
Embrace the tenderness of lukewarm water, and shield your cat from extremes of heat or cold.
Confer upon bath time a brief tenure, a symphony that crescendos and subsides, minimizing stress upon your cat.
The Threshold of Overindulgence: The Perils of Frequent Bathing
Within the grand tapestry of feline existence, self-sufficiency is a leitmotif, woven into their very fabric. An innate understanding of grooming, a proclivity to cleanse through tongue and paw, is their narrative. However, the allure of bathing, while woven with good intentions, may betray a detrimental essence – overindulgence.
The act of bathing, though an instrument of hygiene, becomes an agent of harm when frequented too ardently. A cacophony of cleansing that strips the skin and coat of their cherished oils, the custodians of moisture and balance. A consequence unfurls – parched skin, a haven for irritation, and, in the most dire of circumstances, infection. Thus, the balance between the bath's boon and the bane becomes a treasure to be unearthed.
Navigating the Tides: A Path of Prudence
Within this tangle of bathing's conundrum, the question lingers – how often should one indulge in this aquatic endeavor? The answer, elusive as a wisp of mist, hinges upon myriad factors – breed, lifestyle, health status. A symphony of variables that defies a uniform response.
Nonetheless, a general cadence emerges. Cats, creatures of contemplation, often require a bath every 4-6 weeks, a counsel whispered by the veterinarians who navigate their care. An echo in harmony with their natural rhythm, an ebb, and flow of cleanliness.
Refrain from Coercion or Brusqueness
In the realm of feline interactions, an understanding emerges – a pact that denotes a preference for autonomous decisions. This alliance takes on prominence, particularly when confronted with the endeavor of bathing your cherished cat. A tale of two worlds that must converge, where forcing your feline into the watery embrace or treating them roughly during the process can unfurl a duet of stress and discomfort, resonating in both your heart and your furry companion's.
Why is the avoidance of force or roughness during this aquatic rite so pivotal? Let us unravel the layers of this conundrum.
Primarily, cats personify sensitivity, exquisite in their perceptions. The canvas of their existence is daubed with reactions that sway to the winds of change. Should you attempt to wrestle your cat into the bathing realm or enact harshness upon them, the response that unfurls can range from apprehension to aggression. This, in turn, transforms the bathing episode into a tempest of unease, besieging both your world and theirs.
Secondly, the notion of subduing your cat through force unfurls a tapestry of hazards, both for you and your treasured companion. The cat, in a bid to escape, may resort to scratching or biting, thereby incurring wounds upon you. Moreover, any excessiveness in your approach might inadvertently inflict harm upon their tender skin or coat.
Thirdly, a dark cloud looms when negative experiences during bathing cast their shadow. These moments of distress can etch an indelible association with the act itself, manifesting in resistance to future bath endeavors. Thus, the cycle of maintaining your cat's hygiene becomes a labyrinthine journey fraught with tribulations.
To circumvent the realms of force and roughness during the bathing pas de deux, allow these pearls of guidance to illuminate your path:
Create a sanctum of warmth and comfort in the bathing arena, a retreat that soothes your cat's senses.
Employ water of gentle warmth, in communion with cat-specific shampoo that honors their skin and eyes.
Furnish a non-slip surface, an altar of steadiness for your cat to tread upon during their aquatic sojourn.
When agitation brews within your cat, a strategic retreat for both parties allows a calming interlude before the bath's dance recommences.
In the symphony of their behavior during the bath, let punishment or reprimand be silenced, for harmony stems from understanding.
Strategies for Tranquility: A Bathing Sonata
Bathing, an overture that weaves the tapestry of cleanliness, oft conjures trepidation. Yet, within this ebb and flow emerges a sonata of serenity, where water dances with fur. This crescendo of calm, if approached with grace, transforms the daunting into the serene. Let these melodies of wisdom guide your path.
Elixir of Specialized Shampoo
A rhapsody of care emerges when selecting the balm for your cat's cleansing. The fragility of their skin, a canvas painted with tenderness, demands a potion woven with consideration. Human shampoos, a realm of harshness, are not the answer. In their stead, the elixirs crafted for feline care unfurl a ballet of gentleness, preserving the integrity of their coat and skin.
Averting the Cascade into Ears
In the chamber of feline anatomy, the ears take on a role of reverence. Sensitivity resides here, where sound orchestrates life's symphony. Thus, water's encroachment, a realm of discomfort and duress, must be forestalled. Adorn your cat's ears with cotton, a sanctuary against this aqueous intrusion, or wield the magic of specialized ear cleaners. Thus, the serenade of their comfort endures.
The Prelude of Preparedness
Before the aquatic ballet ensues, a prologue of preparation takes the stage. Weave a tapestry of readiness – a non-slip sanctuary, towels poised in anticipation, cat-specific shampoo that pays homage to their unique essence, and a handheld showerhead or cup, a vessel of serenity for the cleansing cascade. This tableau curtails the ingress of anxiety.
Lukewarm Waters: A Sonnet of Comfort
In this aqueous realm, the temperature wields profound significance. Cats, guardians of warmth, demand an embrace of lukewarm waters, a realm of equilibrium. The cascade that bathes them must mirror their realm, avoiding the extremities of heat or cold. Before the water's caress, a simple touch of your hand serves as a sentinel of their comfort.
The Finale of Drying: A Ballet of Gentleness
As the symphony of cleansing concludes, a ballet of drying commences. Yet, gentleness must be the maestro here. Instead of a vigorous concerto, the towel, wielded with a gentle hand, averts discomfort and irritation. Thus, serenity takes root, permeating the aftermath of the aquatic journey.
Harmonizing with Positive Reinforcement
To conclude this overture of bath time, a final note must be struck – the harmony of positive reinforcement. For every step, every acquiescence, let treats and words of praise be the chime that echoes. Thus, the journey's end is punctuated with positivity, making the prospect of future baths a sonnet of ease.
In summation, the odyssey of feline bathing metamorphoses into a symphony of understanding. Every note, every nuance, is an ode to your cat's comfort. As you waltz through the realms of forcelessness, tenderness, and guidance, a crescendo of tranquility emerges – a soothing lullaby in the lexicon of bathing.
Crafting Enjoyable Bath Time for Your Feline Companion
The prospect of bathing your cat might seem like navigating uncharted waters, a voyage fraught with uncertainty. Yet, fret not, for it can be transmuted into an affair of joy, a journey peppered with delightful moments. Armed with the right technique and mindset, the tapestry of bath time can morph into a symphony of pleasure for your beloved feline companion. Herein lie the keynotes of wisdom on how to transform bath time into an enchanting escapade for your whiskered friend.
Choosing the Perfect Moment
Amidst the ebb and flow of time, a golden epoch must be discerned for the rite of bathing. Seek out a time when your cat is nestled in tranquility, after a restful siesta or a frolicsome gambol. It is paramount to eschew moments of anxiety or hunger, for these shades of distress would only cast a shadow over the waters of bath time.
The Caress of Lukewarm Waters
In the realm of sensitivity, cats reign supreme. Hence, the aqueous embrace should mirror their comfort zone. Lukewarm waters, a realm of equilibrium, must take precedence over extremes of temperature. A simple touch, a tender communion with your elbow, must precede the cascade upon your feline's fur. If it sends ripples of discomfort or shivers, the water's temperature is unsuited for your cherished companion.
The Sonata of Cat-Friendly Shampoo
Human shampoos, a symphony composed of harsh chemicals, must never grace the realm of your feline's skin. Their sensitive canvas is a realm of vulnerability, one that requires a potion crafted with meticulous care. Seek refuge in shampoos designed with your feline in mind. A formula curated for cats, a pantheon of gentleness, will bestow upon their coat a sheen of health without an iota of skin tribulations.
The Evasion of Water's Embrace on Their Countenance
The symphony of most cats unfolds a discordant note when water splashes upon their countenance. Thus, a choreography that avoids water's ingress into their eyes, ears, and nostrils is imperative. In lieu of direct water cascades, opt for a gentle waltz of the washcloth or the ethereal touch of a sponge upon their visage. This ballet of care bestows upon them a sanctuary of tranquility.
The Dance of Delicacy
Within the choreography of bath time, the central tenet is that of gentleness. This ethereal touch is the beacon that guides your feline through this aqueous journey. Shun the jagged edges of roughness or sudden movements. The gentle currents of care, like a lullaby, lull your feline into a realm of serenity.
Guiding Stars Amidst the Bathing Constellation
In this celestial tapestry of bathing, missteps can cast shadows across the stars. Thus, a codex of guidance is unveiled, a map to navigate the treacherous waters.
One cardinal folly to evade is the usage of erroneous shampoos. Human or canine elixirs, heavy with harshness, spell a discordant note upon your feline's skin. The delicate canvas they call skin can be incited into rebellion, spawning a tapestry of discomfort and health woes. The solution lies in shampoos curated for cats, a symphony of gentleness that reveres their fragility.
Another chapter of this saga is the prologue of preparation. Cats, as creatures of skittish elegance, shy away from abrupt movements and cacophonies. Thus, a sanctuary of serenity must be woven before the bath commences. In the hush of this realm, your cat shall feel the embrace of comfort.
Securing your feline's presence is paramount during this aquatic ballet. Cats, like ethereal spirits, can slip through your grasp, especially when drenched and soapy. Enlist the aid of non-slip mats in bathtubs or sinks, and bear a resolute grip on your cat's form.
The coda of this bathing sonnet finds its resonance in the drying ritual. A cat left damp, a symphony of moisture, can evoke skin's ire and health tribulations. Anoint your feline with the embrace of a towel or the whisper of a hairdryer. The ultimate note, as the curtains fall on this aquatic odyssey, is to leave no vestige of dampness.
Culminating in Harmony: A Satisfying Conclusion
In the symphony of feline bathing, each chapter blends seamlessly into the next, crafting a harmonious tale of cleanliness and care. As your feline friend's drying journey reaches its culmination, the narrative finds its resolve, fostering an environment of comfort, cleanliness, and well-being.
For those seeking a succinct guide to feline bath time, here's a step-by-step navigation:
1. Procure cat shampoo.
2. Armour yourself in protective gear.
3. Prepare a shallow, warm bath.
4. Apply gentle restraint to your cat.
5. Wet their coat with care.
6. Lather them tenderly.
7. Initiate the rinsing ritual.
8. Engage in the drying process.
And a final piece of advice, akin to a calming refrain, resonates: do not be intimidated. The path may not unfold in linear simplicity, but it is navigable, and upon its culmination, both you and your feline companion will experience a shared sense of well-being and satisfaction.
As the bathing ballet nears its conclusion, the goal is expediency. The act of drying, usually a less thrilling endeavor, ensues. Towels cradle your feline, absorbing moisture while a soft chorus of coos and comforting sounds serves as a backdrop. Remember, patience is your ally in this act of feline care, guiding the conclusion to a harmonious end.
The world of feline bathing, though occasionally challenging, is a testament to your dedication as a pet owner. Fusing preparation, gentleness, and patience, you guide your feline friend through the aquatic passage, ensuring their cleanliness and comfort. As the final notes of the bathtime symphony resonate, you stand as a maestro of feline well-being, orchestrating their health and hygiene with grace and care.
More Interesting Articles