(Last Updated On: May 21, 2022)
How to bathe your cat? It is critical to understand how to wash your cat. Cats do a good job cleaning themselves most of the time, but they may want assistance from time to time. In this scenario, knowing how to properly bathe your cat is critical. In this article, I am going to share some tips on how to bathe your cat.
How to bathe your cat
Giving a cat a bath can be a tricky task since most cats dislike water and being wet.

Dry bath products are now available on the market to avoid giving your cat a bath completely; however, these treatments are better utilized to maintain your cat clean and healthy rather than to clean them up after a mud roll.
Dry bath products are often leave-on treatments that help to eliminate odor. A dry bath is an excellent way to keep your cat clean. Because no water is required to wash it away, it should have no effect on their existing flea treatment. Before using these items, always read the labels. They are safe for cats to use, but they may include chemicals to which you or your cat are allergic.

Dry bath treatments are excellent, but what if your cat comes home late at night coated in dirt, paint, or something else really filthy and potentially toxic? Let's face it, cats get themselves into a lot of mischief.
[read more]

You probably won't want them to come inside the home and lay on your floor or furniture, and you shouldn't let them stay in the muck all night or try to clean it up for yourself unless you know what your cat is coated with. If at all possible, avoid allowing your cat to consume a foreign substance.

You'll want to know how to give your cat a wash if this happens, which ideally won't happen very often.

If you're lucky, this won't be too difficult. It's possible that your cat likes the water. Things may become interesting if you have a regular cat like the rest of us.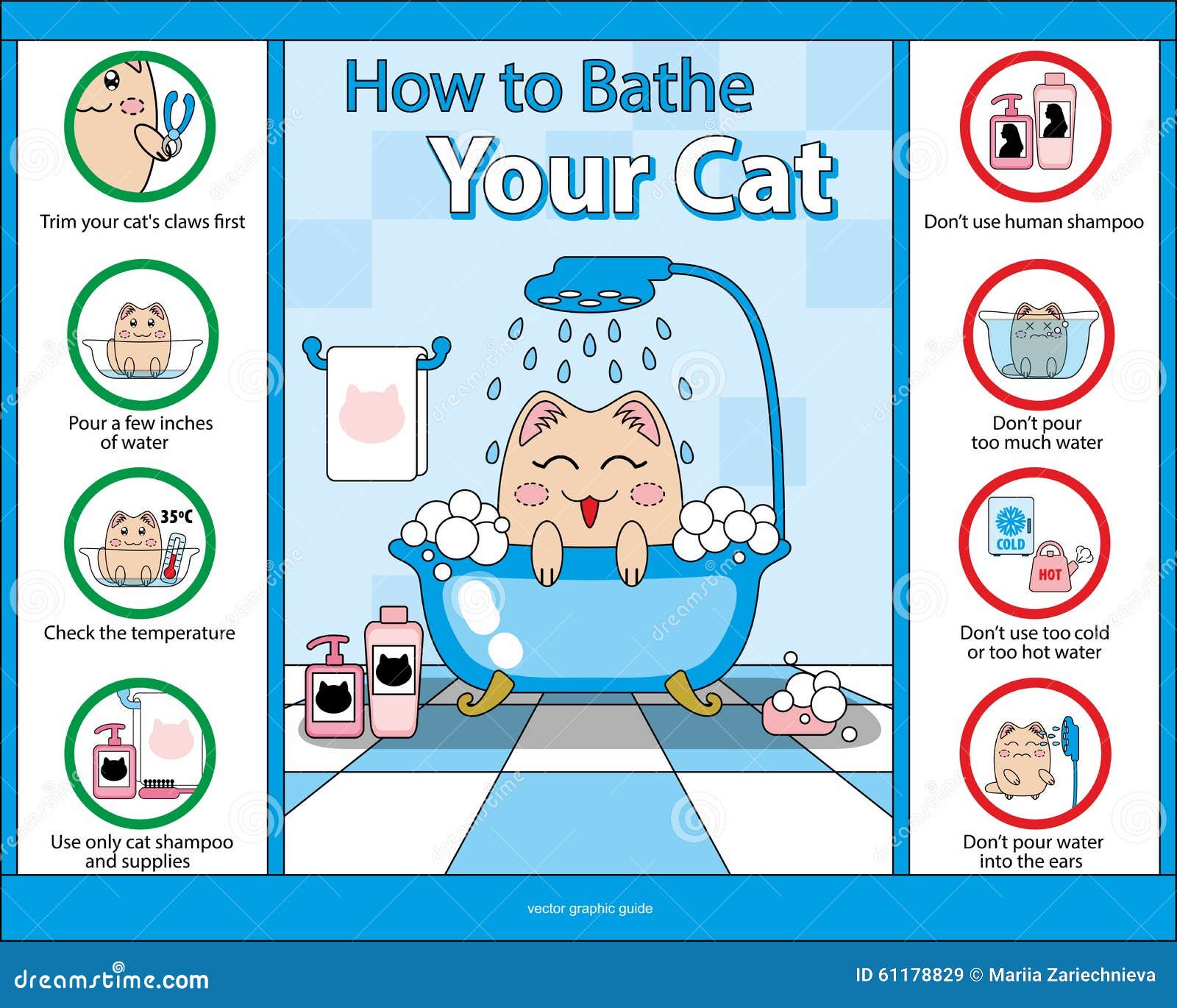 If you want to give your cat a wash, you need to use a specialized kitty shampoo. Your usual shampoo could include strong fragrances or chemicals that are detrimental to your cat. In an emergency, if this is not possible, do the best you can with only water. Although it may not be as simple, this should remove most of the dirt from your cat's fur.

You should have a good understanding of your cat's personality by now. You'll be able to tell whether or not your cat will resist you and how hard he or she will try to avoid bath time. As a result, take all essential precautions to protect yourself and your cat. After all, most cats have a strong defensive mechanism. Claws!

You'll be OK if you have a leather jumpsuit and bird-handling gloves. Of course, most of us lack such protection, and it isn't required to complete the task.
Long sleeves are required, although rubber gloves are recommended. Personally, I prefer a strong, sturdy fabric such as denim or even thick cotton. Just make sure that anything you're wearing can't be readily pierced by your cat's claws.

Your bath area requirements should be determined by the size of your cat and the severity of his or her rage.

For tiny cats and kittens, you might be able to get away with using your sink. If you don't have one, use your bathtub and close all the doors. If you have a glass shower door, climbing into the tub with your cat and closing that door as well is a good idea.
Stop! Before you toss your cat into a tub of water, keep in mind that they will most likely be terrified.

When you try to give your cat a bath, odds are she'll sense something's wrong even before you start. The sound of running water, as well as splashing sounds in the tub or sink, may terrify your cat. Running water over your cat like a shower is typically not a good idea.

This may surprise your cat, prompting him or her to leap into action and attempt to flee.

The best technique I've discovered is to fill a tiny bath with water and have a cup nearby to slowly pour water upon your cat to soak him.

Keep you cool! In this circumstance, you are the lord of your realm; don't let your cat convince you differently. While hogtying your cat is not advised, you will need to limit his movement to some extent. For rebellious cats, this may require the efforts of two persons, as well as considerable force. Please don't injure your cat in any way!

Complete the operation as fast as possible after you gain control of your beast and the water is ready.

Wet your cat's coat completely and use his own special shampoo to lather him up. Do your best; don't forget about the feet, tail, and tummy. When cleaning your cat's face, take additional precautions! Shampoo may not be required in this region, and extreme caution should be exercised around his eyes.


Begin rinsing your cat once it has been soaped. Rinse your cat's hair with the same gently pouring technique you used with your handy cup and the water in the tub.
You might wish to keep a supply of fresh, clean water on hand for rinsing. Break up any matting with your fingertips and work your way through thickly covered regions. Rinse thoroughly, drain the tub, and you're nearly finished.

It's now time to dry your kitty off. Drying your cat should not be as difficult as it appears. You won't be able to entirely dry him, but give it your all and your cat, as well as time, will gladly finish the job.

Keep your cat in the area when you let him out of the sink or bathtub. Your cat will most likely want to shake first, exactly like dogs, and then massage your cat with a towel gently but enthusiastically to get rid of the extra water.

Your cat will proceed to lick himself until he is completely dry. You can either leave your cat in the bathroom until he's dry, or you may let him out whenever it's best for you, your house, your furnishings, and your cat.
Take away
To make things easier, here's a step-by-step instruction on how to give a cat a bath:
Get cat shampoo

Suit up! Protect your body from potential injury.

Draw a shallow bath (warm, not hot or cold)

Restrain your cat

Wet

Lather

Rinse

Dry
The final piece of advice before giving a cat a bath is to avoid becoming intimidated. It won't be as easy as one, two, or three, but it won't be impossible, and you'll both feel better after it's done.
More Interesting Article

[/read]