(Last Updated On: May 19, 2022)
Pet lovers find the best way to raise a kitten at home. Raising a kitten is a lot of fun, care, responsibility, and success. The best way to raise a kitten gives the owner satisfaction and fullness. In this article, I am going to share 10 tips to find the best way to raise a kitten.
10 Tips to Find the Best Way to Raise A Kitten Smoothly
Having a kitten requires a little effort but provides a lot of joy in return. Here are some suggestions for making your new kitten feel at ease while also providing you with peace of mind and finding the best way to raise a kitten. Owning a new kitten is a shift, so take it slowly and don't be frightened.
1. Accessories for a kitten
If you have a tiny kitten, handle it frequently and gently to demonstrate that you are someone it can trust. Place a ticking clock near its bed; the calming sound will resemble the mother kitten's heartbeat.
Make sure the kitty has a comfortable cushion or kitten bed to sleep in if it's being kept in a separate room until it's ready to join the family. A few toys are also welcome.
A cotton swab attached to a thread and hanging from a doorknob (supervise play with this item) or a milk jug ring are also excellent free toys (that plastic ring around the cap).
Buy superballs, a laser pointer, and catnip mice at the kitten store, then sit back and watch as kitty exhausts himself like a spring-loaded, furry ballet dancer, jumping in the air as he chases his "prey."
To show the kitten how to play, look for lightweight toys and toss them about a little. Kittens learn from their moms, and they will learn from their adopted human parents as well.
[read more]
2. Private area with litter boxes
Establish a litter box space for the kitten in a well-ventilated, quiet location. Then, show the kitten where it is and scratch it with your hand to demonstrate to him it's OK for him to use it.
Again, kittens learn by observing, and kittens, in particular, require some coaching at times. If the kitty pees outside the box, don't reprimand it; instead, immediately place it in its kitten box. Showing anger will frighten the kitten and make them dread you. Fear isn't a good instructor; instead, you want calm praise and support.
For optimal success, address the problem as soon as it occurs, as kittens have short memories and will not associate the accident with the kitten box unless you rapidly link the two with remedial action (putting kitty in the box).
3. Kitten's Food
I've always fed both wet and dry food to my kitties. Inquire with your veterinarian about the correct quantity to feed your kitten, but be sure to get high-quality food that they enjoy rather than anything cheap from the supermarket.
If you feed your kitten high-quality food, they will have a higher chance of avoiding health issues in the future. Male kittens can develop crystals in their urinary systems, which are unpleasant and expensive to remove, according to my veterinarian.
To avoid this, don't feed your cat food that has a lot of magnesium. Look at the ingredient list. I avoid fish products since I have male kittens and instead feed them turkey, chicken, or beef-flavored canned meals.
The ones with rice are also delicious. Vary the kinds of food you feed your cat, just like you would for humans. I buy a case of canned food and feed one can to each of my cats every day.
4. Health and care of kittens
By purchasing kitten medications online, you may save money. When the kitty is sick, you can take him to the doctor and buy the treatment there, but if it isn't an emergency, do some research to locate cheaper kitten medications like flea or parasite killers.
Give kitten food with a low magnesium content to avoid this. Check the labels for ingredients. Because I have male kittens, I avoid fish items and instead feed them canned turkey, chicken, or beef.
Rice-based versions are also delicious. Vary the tastes of the food you feed your cat a little, just like you would with people. I buy a case of canned food and give one can to each of my animals on a daily basis.
5. Care for kittens
Purchasing kitten medications online allows you to save money. When the kitty is unwell, you can take him to the doctor and get the treatment there, but if it isn't an emergency, do your study to find cheaper flea and parasite killing aids for kittens.
It is preferable to be safe than sorry. Also, never give human medicine to kittens; their systems are not the same as ours. Don't take chances with your kitten's life.
6. Take a walk outside
When it comes to whether or not to let your cat outside, it is scientifically proved that indoor kittens live longer than those that are allowed to go outside.
This is due to the numerous hazards and diseases that a free-roaming kitten may face outside. Cars, kitten-hating neighbors, dogs, illnesses passed down from other people's kittens, and, of course, fleas are among the dangers.
As I grew up, we had kittens that all went outside and one by one died of leukemia, poisoning from a neighbor, being struck by automobiles (we lost a few kittens to cars), and one being trapped and returning with a damaged limb that needed to be amputated.
Despite the fact that we lived on a quiet, wealthy street, all of this happened. I can't stress this enough: indoor kittens live longer. Simply buy a kitten tree (kitty condo) or a scratching post for your indoor cat and place it near the window so he can observe the birds.
7. Teach Etiquette
When you have company around who are harsh with kittens or detest them, keep an eye on your cat. If you don't want the cat to be touched by little children, for example, put him in another room.
If you have little children, make sure to demonstrate to them how to be gentle and nice to kittens. It pays to watch your small child's contact with a new kitten because well-intentioned children can break a cat's leg by picking it up incorrectly (one of my kittens was a rescue who had this happen to him), thus it pays to supervise your small child's relationship with a new kitten.
This is also for the child's safety because the harsh handling of a kitten might lead it to scratch! Kittens are affectionate, but they must be handled with respect or they will defend themselves.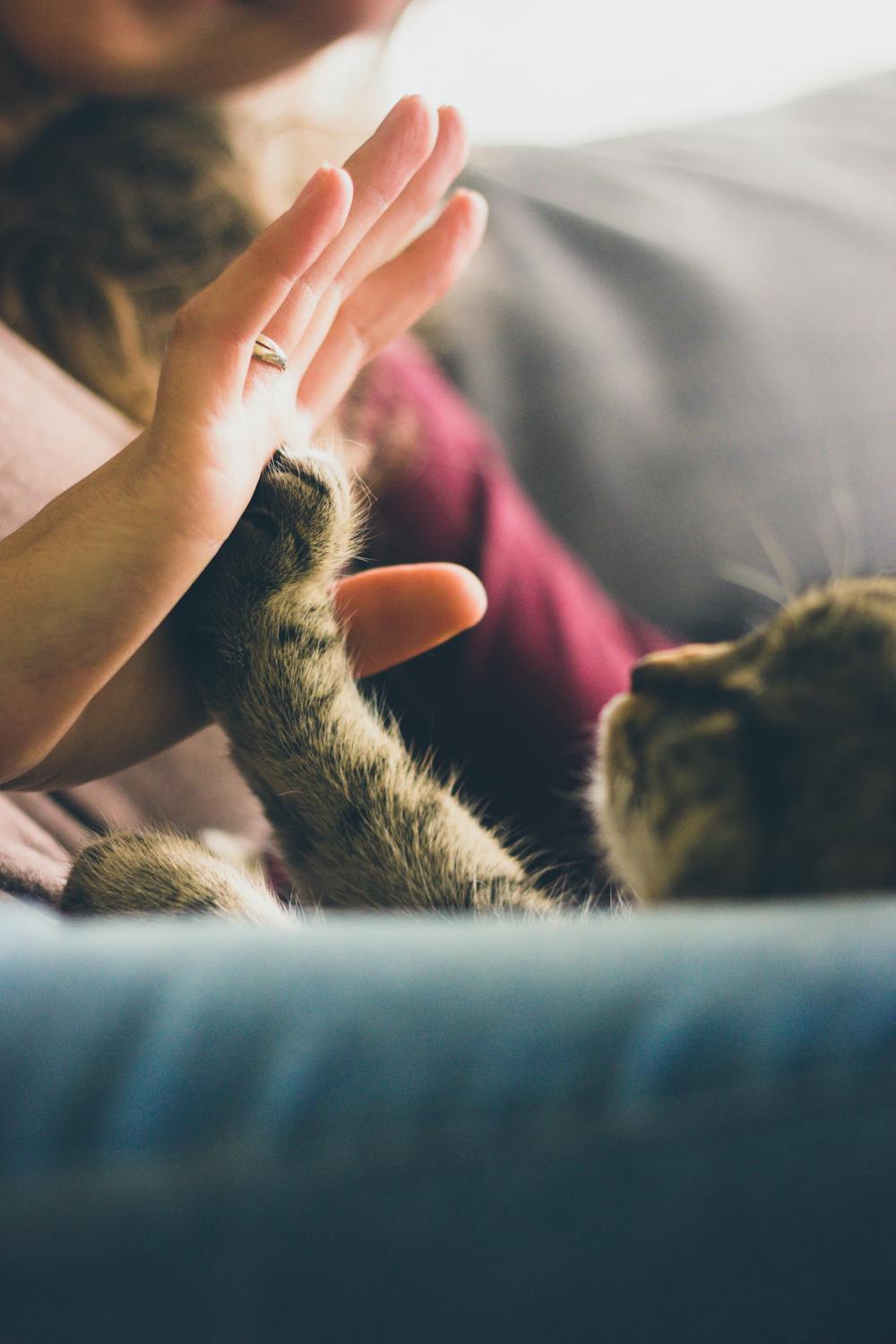 8. Sitter for kittens
If you'll be gone for a week or more, have a kitten sitter or a friend keep an eye on your kitten while you're gone. Place a huge amount of dry food and water on the table for the kitten, but make sure someone checks to see if it's running out.
9. Keep with you
Having a kitten is both a responsibility and a luxury. Remember that your kitty will stick with you through thick and thin, so be there for him in good times and bad.
By providing him a permanent home, you may give them the same chance at a happy and fulfilling life that you deserve. If you are forced to give up a kitten due to unforeseen circumstances, be responsible for finding a suitable home for your cat.
Do the same thing for your kitten as you would for yourself. There are very few conditions that would justify giving up a kitten, thus I strongly encourage you to stick to your promise for serving with the best way to raise a kitten.
If you live in a hurricane-prone area, prepare for catastrophe by stocking your car with a folding cage, a gallon of water, and food in case you have to flee. Never leave your cat alone, since he could not be there when you return.
My three kittens were microchipped so that if they ever physically separated from me, they would be able to find their way back to me. Microchips include the owner's address, and authorities examine strays to determine if they have them, making them excellent investments.
10. Have patience
Patience and responsibility are two virtues that come with owning a cat. You will be rewarded with unconditional love and acceptance in return. If you have any questions about kitten care, call your local ASPCA (American Society for the Prevention of Cruelty to Animals) branch or your veterinarian, and they will generally be able to assist you over the phone.
You and your kitten will get more comfortable with each other over time. Until then, just remember to take things slowly, be patient, and supportive, and you'll have a great buddy for life,as the best way to raise a kitten. Get useful pet stuff from here.

More Interesting Articles
[/read]